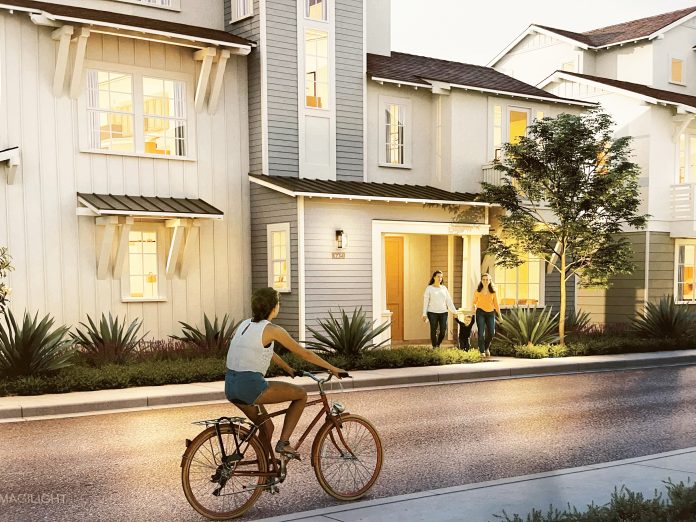 Though the Los Alamitos City Council pulled a controversial item regarding the Lampson Housing Development project from its Jan. 23 agenda, some residents still took the time to let the Council know there will be a fight if the project is not scaled back.
The city had scheduled to discuss and potentially ratify zoning changes approved by its planning commission back in 2022 that would have made multiple adaptations to its zoning code to facilitate a so-called housing element submitted to the state.
Though that is true, among the zoning changes within the housing element is also a rezoning of the former commercial property along Lampson Ave. that would allow developers to construct a housing project to include 246 new residences, 77 of which would be "affordable."
Without discussion, the Council pulled item 12 from its agenda, which would have been the minutes from its Planning Commission, which voted unanimously in November to approve the changes. Under the city charter, the planning commission decision does not have the force of law if not approved by the entire city council. Thus, the matter was delayed.
Christina Swanson thanked the Council for the delay but said "please don't bring it up in two weeks, we need two months." Swanson said the plan for the 246-unit series of complexes is woefully inadequate in terms of parking, especially at the so-called "affordable" housing unit (77 units). "If we're going to have affordable housing," she said, "let's at least have affordable housing worth having."
She said the tract where developers have planned the housing complex is roughly the same size as the tract where their community is built, "and we have only 102 patio homes. "Look very carefully at this project," she advised the Council.
Local resident Ricardo Ortiz, who said he lived in Los Angeles before moving to Los Al, suggested while the mixed-use complex is proposed to be only 10 percent "affordable," he suggested the 90 percent won't tolerate the 10 percent of affordable housing "and it will become 100 percent (affordable).
Dan Brandt, a one-time policeman in Los Al, warned that traffic congestion could pose serious delays in response times of police and fire vehicles to the project. He said the 2-mile square property on which the Joint Forces Training Base is situated prevents any civilian traffic relief.
Brandt said in addition to the 246-unit project, Seal Beach has a 400-unit complex planned for next to Rossmoor in their housing unit and Old Ranch is about to break ground on a remodel that will bring additional residences.
"We're going to be fighting them," said Brandt, indicating that 200 people would be protesting at Seal Beach city council meetings when and if that 400-unit project begins to surface.
He said that if the Los Al Lampson Project is passed, it will create a "Domino effect" for the others. "I'm very disappointed," he said.
Derek Boyer, a resident of College Park East, suggested residents were simply being ignored, or at least that it felt that way. In addition, with the state facing a water crisis, he wonders what impact the vast influx of residents will have on the water supply. "That's the elephant in the room that is falling on deaf ears."
n fact, he said it feels like everything residents say is falling on deaf ears. "There is no back and forth," said Boyer, "we speak and you just sit here, silently," he said.
"Honest," said Boyer, "it feels really one-sided."
"We're listening," said Mayor Tanya Doby.
Other residents made suggestions like having the meetings in a bigger venue, since many people who came wanting to speak went home after standing outside because they could not get in. Another seriously faulted the required outreach on the project, which only requires notification of residents living within 500-feet of the facility, "shockingly bad."
Some suggested the project should be sent back to the Planning Commission for further discussion while others pleaded to be heard.
"This project is being dumped onto this community and all we get is the congestion," one lady said. "We need a voice."