Cal State LA honored 13 distinguished alumni at its 2022 Alumni Awards Gala recently, including Grifols Biologicals LLC President Willie Zuniga, who was named Alumnus of the Year, according to a university press release.
Among the honorees was Los Alamitos City Council member Ron Bates.
Generations of Diablos and Golden Eagles returned to campus for the April 8 gala, which also celebrated the university's 75th anniversary.
In his welcome, President William A. Covino thanked alumni and supporters for their contributions to the university's success through the years.
"You continue to write the story of Cal State LA, and it is a wonderful story," Covino said to the audience. "You are our greatest ambassadors. You are the irrefutable evidence of the transformative power of a Cal State LA education. Since the university opened its doors in 1947, you have been the heart of our story, our rich history, our vision, our legacy."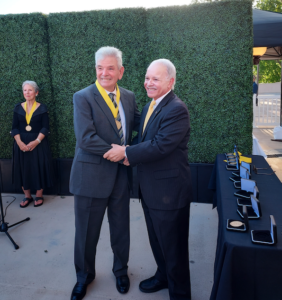 Covino noted Cal State LA's continued rise in national prominence. The university was again recently ranked number one in the United States for economic mobility.
The festive event was held outdoors on Greenlee Plaza. The evening of mingling, reminiscing and celebrating featured the inspiring stories of outstanding alumni.
"This evening we recognize alumni who represent the best and finest," he said. "Our honorees are outstanding examples of what is possible, and tonight we get to celebrate their achievements as influential leaders and inspire the generations of alumni to come."
Los Alamitos City Council member Ronald "Ron" Bates, a 1968 graduate of the College of Natural and Social Sciences was honored for his career of public service.
According to the University's webpage, Bates was honored for being a "dedicated public servant for 52 years."
He has served as President of the League of California Cities 1996-98, President of the Southern California Association of Governments 2000 and President of the Association of Metropolitan Planning Organizations 2002, it said.
Bates currently serves as a Council Member in Los Alamitos and previously served as Mayor. Working for the League of California Cities, he serves as Vice Chair of the California Massage Therapy Council responsible for regulating the standards for massage certificate holders and the curriculum and training at massage schools in California. He is also a Board Member and Secretary of Anaheim Regional Hospital.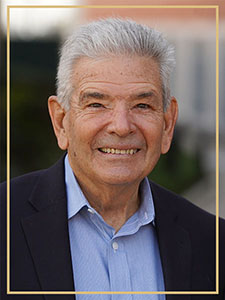 Bates was a former City Manager in Buena Park in Orange County, and La Habra Heights, South Gate and Pico Rivera in Los Angeles County where he was primarily responsible for restoring or maintaining fiscal integrity and stability to those cities.
In South Gate, he was a major contributor to the Azalea Project, the largest commercial development in the city's history. As Assistant City Manager and consultant in Anaheim, he worked with the City Manager and Legal Counsel negotiating major agreements for the construction, financing and operation of the Pond of Anaheim, which finished construction on time and under budget in 1993, the university said.
In note of his accomplishments, he received the National Public Service Award in 2014 from both the National Academy of Public Administration and the American Society for Public Administration (ASPA). In 2000, he received the Tranny Award by the California Transportation Foundation for an elected official's contribution to transportation.
According to the Cal State bio, following undergraduate work at California State University, Los Angeles in Government and Physics and serving as Cal State LA's Student Body President in 1968-69, he went on to receive an MPA and Ph.D. from the University of Southern California in Public Administration specializing in finance and personnel administration with further work in finance completing his Certified Financial Planning (CFP) credential in 1988.
Mr. Bates has been married to Marilyn Bates Ph.D. for 51 years. They have two daughters and two grandchildren ages nine and four. He and his wife fund an Internship Program for Public Administration graduate students at Cal State LA and scholarships for high achieving high school students living in Pico Rivera. He also serves on the Advisory Board for the Dean of the School of Natural and Social Sciences at Cal State LA.