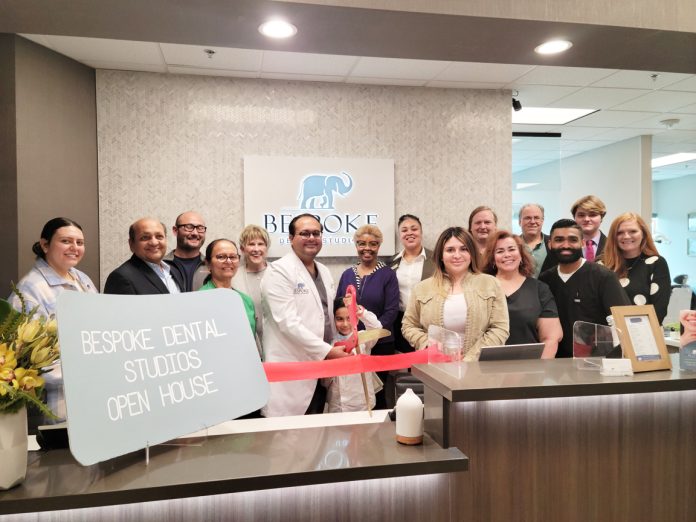 "Bespoke Dental Studios," 3851 Katella Ave., Ste. 225, held a ribbon cutting event recently, orchestrated by the Los Alamitos Chamber of Commerce.
It's a new day in Dentistry, where in addition to regular teeth cleaning, to help the entire body be healthy, a patient can have X-rays and within minutes, Dr. Parth Kansagra, DDS, MBA, MBS, with his new technologically-advanced medical/dental machines, can make the "crown" for a tooth, right while the patient waits; there's no more "temporary" crown, with a waiting period for a lab to make the crown.
Dr. Kansagra said according to the National Institute of Health, NYU, the University of Pennsylvania Dental School, the Journal of Alzheimer's Disease, Penn Medicine and the British Dental Journal, that teeth cleanings help a patient to avoid heart disease, stroke, worsening of asthma and diabetes and helps ensure a healthy pregnancy; reduces chances of Alzheimer's and/or dementia.
"It's a way to stay healthy with regular cleanings," said Dr. Kansagra. "We're open from 7 a.m. to 7 p.m. Monday through Friday and Saturdays 7 a.m. to Noon; we offer emergency dental care and walk-ins are always welcome."
At Bespoke Dental Studios, they put their patients first, with attention to detail – giving personal attention, with modern treatment options – striving to elevate the dental experience even in small details.
"We don't just want you to be healthy, we want you to have an affirming and empowering experience while achieving optimal heath and lasting beauty," he said.
Dr. Kansagra also specializes in cosmetic dentistry, implants and TMJ treatment.
Our mission is to make a difference in your life by providing dentistry that goes above and beyond, and we care deeply about our patients and want to provide the most comprehensive and personalized dental care for every patient, by using the latest dental technology in a relaxed setting.
Bespoke Dental graciously hosted the Chamber and community members, providing sandwiches and snacks. The Dental office received certificates of congratulations from Congresswoman Michelle Steel's office; Senator Janet Nguyen, with the 36th District of the California State Legislature and Assemblyman Tri Ta, with the 70th District, along with the City of Los Alamitos; the City of Cypress and the Los Alamitos Area Chamber of Commerce.
As a side note, before Dr. Kansagra became a dentist, he designed buildings and just happened to have designed and built the new building that now houses his dental practice.
For more information, visit www.bespokedentalstudios.com, info@bespokedentalstudios.com or call 1-562-285-6767
For Chamber information, info@losalchamber.org or call 1-562-598-6659.