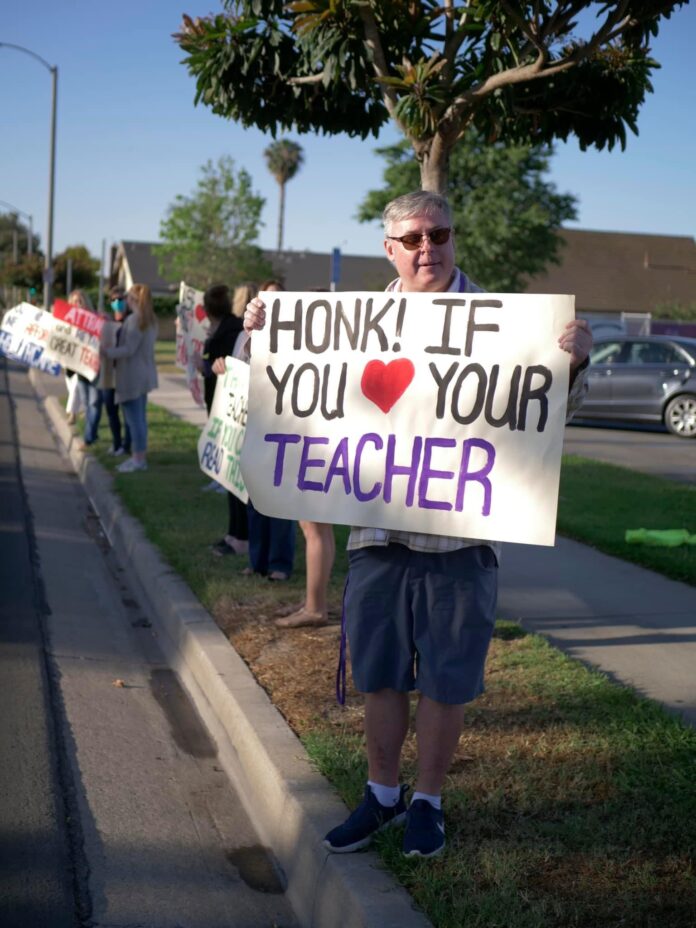 Although the Cypress School District and its teachers' union, the Association of Cypress Teachers (ACT) are destined for mediation, both sides held one last "emergency" negotiating session before agreeing to disagree, the Event-News Enterprise has confirmed.
The two sides said they met in a last-minute ad-hoc negotiating session last week, but even facing an impasse, there was little movement, making an impasse all but certain.
Apparently, the Public Employee Relations Board (PERB), the state's mediation agency, as a matter of course, reached out to both sides after the district filed its paperwork to declare an impasse, both sides said.
Elizabeth Dunagan, the ACT negotiator, acknowledged that when contacted by PERB, she told them that she thought the two sides should still be talking. As a result, the state mediator urged the district to reconvene another meeting to try and resolve the pay raise issues before the mediator was forced to step in.
Dr. Tim McLellan, the CSD's top negotiator, said the district remains willing to give teachers a 4.5 percent raise, but only if they accept a "hard cap" on health and welfare benefits. He said ten of the county's twelve elementary school districts have hard caps on benefits.
The 'hard caps' would not affect any employee, said McLellan, saying that under any option offered, every CSD employee's health benefits would be paid in full. Employees with family members covered by the insurance benefits would be forced to pay the premium difference over the hard caps, he said.
Currently, the district has a percentage cap on benefits, but a 'hard cap' would limit the total amount the district would pay for those benefits. For example, currently, the CSD will pay no more than 88 percent of the health and welfare benefits of some plans.
With a hard cap, the 'percentage' would become a dollar amount that the district would not exceed. In most cases, he said, only employees with large families might be affected but he said the district could control it's budget by controlling the cost structure.
In the negotiations, said McLellan, the district has offered teachers a 3 percent pay raise with no cap on health and welfare benefits, or a 4.5 percent raise with a "hard cap" on health benefits.
Dunagan said neither offer is acceptable to them, and they believe they deserve more. They are asking for 4.75 percent with no hard caps on benefits.
Both sides confirmed they met at 1:45 p.m. Wednesday, May 4. Dunagan said they extended to the district an offer of negotiating a two-year agreement, something that the district had hinted they wanted.
The district, however, flatly refused to negotiate for next year until an agreement could be reached on the current year, said McLellan.
Even though there were brief moments of high hopes when the unexpected negotiating session began, it was soon clear, both sides said, that there was no change in position and thus, no hope to reach an agreement.
Dunagan said when the district refused to budge from its previous offer of 3 percent with no cap, or 4.5 percent with hard caps, it was clear there would be no settlement.
McLellan agreed, saying the district asked the teachers to financially justify their demand in a realistic way. "Until they can justify otherwise, we've made our final offer," he said.
Teachers said the district position was disheartening.
"We [teachers] do a great job of educating children," said Dunagan. "It hurts," she said, and "it affects the energy and emotion when people in charge of your paycheck don't appreciate it."
Cara Patton, ACT president said, "I think that teachers in our district are insulted by the offer that the district has determined is the 'best' that they can do. Going above and beyond during the pandemic showed that Cypress teachers were committed to their students' education. We feel taken advantage of, unappreciated, and undervalued, at a time when we feel we should be recognized and celebrated for the hard work we exhibited at one of the hardest events in our lifetime," she said.
"The district seems out of touch and has no idea of the daily struggles that we encounter in the classroom while managing to provide the best education to our students," said Patton.
"We are choosing to stand together and fight for what we believe in for ourselves, our families, our students, and our community," said Patton.
"We deserve fair compensation," she said.
The district throughout has maintained the prowess of its teacher corps, yet, said McLellan, the issue is financial feasibility. He said more than 80 percent of the district's 188 teachers "are in the last column," meaning they are headed toward retirement.
Also, he said the district has lost approximately 400 students as enrollment drops everywhere. "I know I've said it before, but you can only spend a dollar once."
Dunagan said the Governor's May revision indicates that the COLA for next year will be even larger than this year's 5.07 percent. She said teachers are sticking to their story because they have slipped considerably in teacher pay rankings, down now into the lower third in most district stats.
"Salaries have fallen over the past few years," said Dunagan, who has negotiated successful labor agreements for the past 16 years, never having reached an impasse with the district.
Usually, she said, there are so many creative solutions exchanged between the teachers and the district "but it's just different this year," she said.
McLellan said he too believes it is different this year, and also sees less creativity in negotiating from the teachers. "The teachers came in at 6 percent," said McLellan, a figure he called "unrealistic." Then, he said, teachers dropped to 4.75 percent with no cap but not lower.
"We kept asking them to explain the rationale of their offer," said McLellan.
Both sides must now depend on a mediator from PERB to make decisions they could not find a way to make on their own. Although the negotiations ended in an impasse, the two sides have negotiated together for more than a decade and while there is bruised feelings, both sides say there is no animosity.
The ENE has reached to PERB to explore what happens next but, at press time, have not received a response.
Meanwhile, McLellan said despite the impasse, "I'm optimistic we're going to get settled."