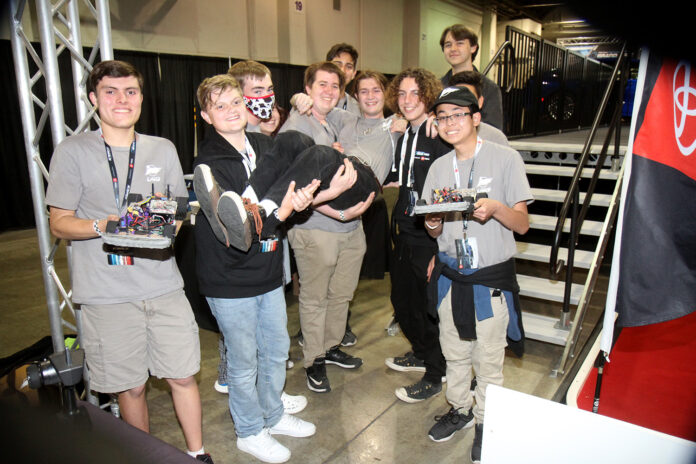 A student club at Los Alamitos High School that creates and races hydrogen-powered remote-controlled cars just wrapped up a record-breaking season, making it all the way to the national championships this past weekend.
The club, known as the H2GP Team, is run by LAHS students with engineering teacher Martin Valenzuela as their advisor. Students design, build and drive the small cars on carpeted tracks in endurance races that can last anywhere from two to six hours long.
"The goal is to get the most laps in a limited amount of time with a limited amount of fuel. The team with the most laps wins," LAHS senior and team captain Zachary Norris explained in a recent Zoom interview.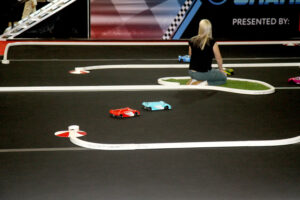 Team members take on a variety of roles in the building and engineering of the cars. Then during competition, students take turns driving the cars, using computers to analyze data like lap times, and making repairs and adjustments during frequent pit stops.
Rankings from Horizon Hydrogen, the fuel-cell company that runs the competitions, had the Los Alamitos team in third place heading into the National Championships held March 26 at the Pomona Fairplex. A top finish would have landed them at the World Championships in Europe in June.
Unfortunately, mechanical problems lead to longer pit stops and in the last hour of a grueling four-hour race, LAHS was edged out by other teams, according to parent Rachel Norris, Zachary's mother.
"The team fought hard," Norris wrote in an email. "They are now ranked in the nation's top six schools. The highest rank LAHS has ever achieved prior to this year was 17th in California in 2019."
The students are reflecting on the record-breaking season they wished would have continued.
"As much as I should be disappointed, I'm incredibly proud of the team and everything they've accomplished," team member Beau LaPoint said in an email. "This has been the team's most successful season yet and I'm excited to see it improve in the coming years."
"Although I'm incredibly frustrated that we suffered so many mechanical failures, especially considering we put in over 30 hours of testing on the cars in the past few weeks, this was still the best the team's ever done," Zachary wrote in an email.
Miles Eaton said he was frustrated with the car's failures but noted he was glad to be a part of such a great season and said the future is looking bright. "Only up from here, with a new team lead coming who's very motivated to improve the team."
Norris said the team's season has been remarkable because they beat out a number of more experienced teams, including competitors with more resources and designated class time for developing and testing their cars.
Zachary shared that their team members spend their own money and hours of their own time on the club and are often searching for places to drive their cars. In recent weeks, the team was able to practice at McAuliffe Middle school and borrow a track from another local high school whose season had already ended.
"They were the little team that could," Norris said, crediting the hard-working teens and their committed advisor Valenzuela for being a rock-solid supporter.
The team's success is also thanks to critical support from the Los Alamitos Education Foundation, according to Norris.
In search of funding, Zachary sought help by applying for grants to help cover the costs of equipment. LAEF stepped up and has provided more than $1,800 since 2019.
"LAEF is so proud of the H2GP team's hard work and success this season! We look forward to continuing to support the team in the future," LAEF Executive Director Carrie Logue wrote in an email.
The LAEF logo appears on the team's cars and t-shirts in recognition of the grant funding and support, according to Logue.
"Next season is looking really promising for the team," senior Zachary said. "I encourage anyone with any interest in engineering, programming, or R.C. driving to check it out."
For more stories on what's happening with local students, sign up for a weekly email newsletter at SpotlightSchools.com.