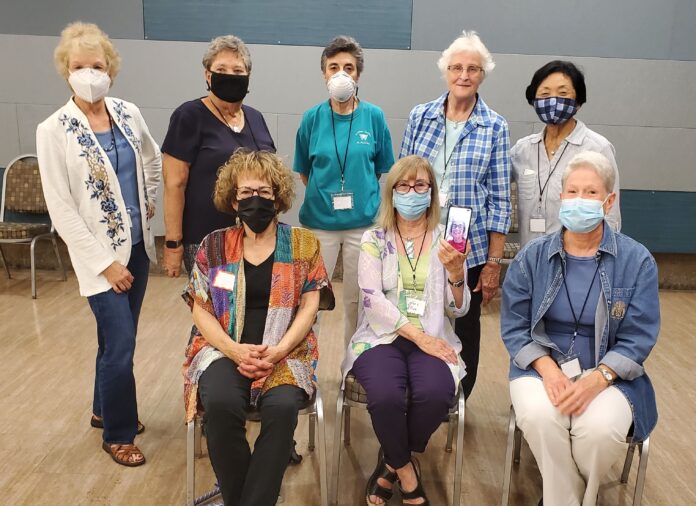 La Palma-Cerritos Branch of the American Association of University Women (AAUW) installed Board members for the 2021-2022 year on September 9, 2021, at the La Palma Community Center at 8:00 p.m. All of the board members who were installed will be serving as board members for a second term.
Installation Officer Past- President Harriet Moses was assisted by Public Policy Co-Chair Sondra Cohen for the Installation Ceremonies. Harriet used President Beverly Zwick's last name as a theme for Beverly's second installation as President. Beverly's name of "Zwick" means "pinch" in German, so Harriet said that she going to make a special "soup" with a "pinch of this" and a "pinch of that." As the base for the La Palma-Cerritos Branch "soup," Beverly held the group together by serving as president during the pandemic. The other board members would be the ingredients of the soup that added substance or flavor to the it.
Executive Board members who were installed included: President Beverly Zwick (present virtually by Zoom), Program VP's, Karen Cox, Nancy Kawamura, and Mary Ann Quinn; Membership VP's Joan Flax and Diane Merrick; AAUW Fund VP's Thea Siegel, Esther Aronson, and Tobi Balma; Secretary Christine Taxier; and Treasurer Marilyn Forsstrom.
After installing the Executive Board, Harriet asked the Appointed Board members to stand, and they also were installed for their second term. Harriet thanked everyone for continuing to participate as board members.
Program VP Mary Ann Quinn presided over the business meeting circulated the minutes of last General Meeting of May 20, 2021, and the Treasurer's report on a clipboard to members. The Treasurer's Report was accepted as submitted, and minutes were approved three members who were present at the last meeting. Mary Ann was surprised when Membership VP Joan Flax presented her with a special certificate from AAUW California in honor of her being an AAUW member for 50 years.
As Chair of the AAUW Fund Named Gift Honoree Committee, Christine Taxier presented Tobi Balma and Carol Marsh with Certificates of Appreciation as the branch's Named Gift Honorees. Tobi was honored for her many years of dedication to promoting equity for women and girls, for serving as mentor to many members, and especially, for serving as our branch Zoom Master during the pandemic. She also served as Zoom host for the AAUW Long Beach and AAUW CA Online Branch. Carol was honored for her many years as member and chair of the Academic Recognition and Awards Committee for Cerritos College women students.