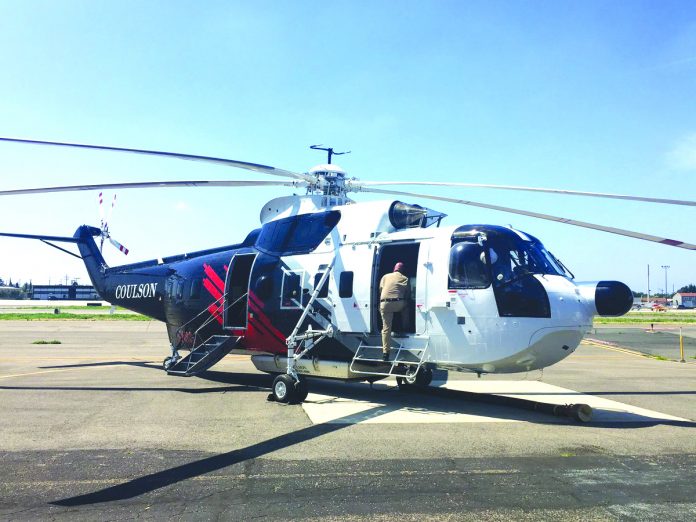 Officials have announced that Southern California Edison funding will again this year bolster around-the-clock aerial assaults on wildfire with the world's largest fire-suppression helicopters.
General Michael Leeney and Orange County Fire Authority Chief Brian Hennessy is scheduled to make an announcement at the Joint Forces Training Base this week regarding the housing of a new fleet of "quick responses" helitankers, according to a press release from Joint Forces Training Base.
It said the population of Los Angeles, Orange, and Ventura counties exceeds that of one-third of the state. Many of these communities live in or near the wildland/urban interface, putting them at risk of wildfire devastation in what has become a "year-round fire season."
Now in its second year, the Quick Reaction Force (QRF) addresses these realities just as its name implies – quickly and with great force.
The QRF fleet, which is again funded by $18 million from Southern California Edison (SCE), is headlined by two CH-47 helitankers that can fill their 3,000-gallon tanks in less than 90 seconds and drop water or retardant (day or night) in surgically strategic lines.
The helitankers are supported by a Sikorsky 61 helicopter with a 1,000-gallon capacity; a Sikorsky 76 intelligence and recon helicopter; and a mobile retardant base that can actively mix up to 18,000 gallons of fire retardant per hour. Together, the fleet makes up the world's first fully nocturnal wildfire aerial task force.
During the 2021 QRF program, the fleet deployed on more than 50 incidents, dropping nearly three million gallons of water and retardant that saved an untold number of homes, structures, and lives. For example, on last summer's Tuna Fire, a single QRF helitanker dropped 37,000 gallons of water in under two hours in a narrow canyon at night – an unprecedented first that helped stop the fire in its tracks.
The QRF program, which is a partnership between the Orange County Fire Authority, Los Angeles County Fire Department, and Ventura County Fire Department, will be operational for 165 days and officially launched on June 24, 2022. A hover-filling and water-dropping demonstration will follow the press conference.
The announcement was scheduled for Tuesday, July 5 at 9:30 a.m.