They say history has a way of echoing its way through time, but one of the most exciting musicals on today's stage bounced out of Henry VIII's Royal Court five hundred years ago.
The electrifying Tony-Winning new musical phenomenon SIX by Tony Award®-Winners Toby Marlow and Lucy Moss, featuring modern musical narratives from Henry's six wives, will play for two weeks in Costa Mesa at Segerstrom Center for the Arts from June 13 to 25.
The irascible musical "Six" transforms Tudor Queens into pop icons to give voice to Henry's six famous wives, two of whom lost their lives in, let's just say, a very unceremonious way.
In fact, producers of this new, original musical claim SIX "is a global sensation that everyone is losing their heads over."
SIX won 23 awards in the 2021/2022 Broadway season, including the Tony Award® for Best Original Score (Music and Lyrics) and the Outer Critics Circle Award for Best Musical.
Catherine Howard, Henry's 5th wife, and perhaps youngest, was born exactly 500 years ago, maybe. Historians only know she was born sometime between 1518 to 1527. Born a noblewoman, she would eventually find her way to King Henry's court, first as a lady in waiting and once Henry caught sight of this teen's beauty, they eventually married, though the King was clearly in the throes of middle age.
Though known to history as Catherine, historical documents reveal that in her own hand, she spelled her own name "Katheryn."
Any amateur historian knows King Henry's Court was probably akin to medieval versions of the Kardashians, or maybe the Housewives of Tudor, but in those days, royal affairs could be met with a swift and deadly end.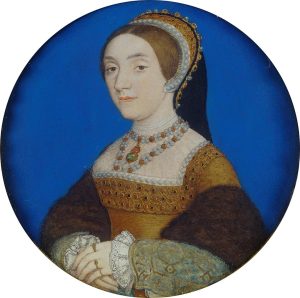 Poor Catherine was convicted by rumor and despite only circumstantial evidence, she was said to meet her fate on the 13th of Feb., 1542, perhaps history's earliest "femme fatale." She was led out onto Tower Green, led to the scaffold, and was cited by historians to have spoken clearly and convincingly before she met her end.
Now, Catherine Howard's voice comes alive five centuries later, along with the voices of Henry's other five wives. Courtney Mack, who appeared on Broadway in SIX, will give voice to Howard on the Segerstrom stage.
The North American tour company cast also features Khaila Wilcoxon as Catherine of Aragon, Storm Lever as Anne Boleyn, Natalie Paris as Jane Seymour, Olivia Donalson as Anna of Cleves, and Gabriela Carrillo as Catherine Parr. The cast also includes Marilyn Caserta, Kelsee Kimmel, Erin Ramirez, Cassie Silva and Kelly Denice Taylor.
The sassy pop-rock cast is supported by an all-female band and the six wives have plenty to say about Henry, God rest his soul.
"We refer to Henry," says Mack, "but he's not part of the show."
"It is a full female cast," said Mack, "and a full band that is female as well…which is kind of unheard of on Broadway."
"It's about the six wives of Henry the Eighth. And it's sort of a pop-rock kind of concert wherein there's a contest of who has had it worse in life. And so each woman has a number to kind of say 'this is what happened in my life.'"
Mack is an American actress from Wisconsin who attended college in Chicago, then hung around the theater circuit and heard about SIX. Back then, she said, "It was kind of a pre-Broadway try-out at a number of theaters," she said.
People loved it, and the show moved to Broadway, "and they kept me, and they kept the whole cast from the Chicago premiere, which is pretty special," she said.
The New York Times says SIX "TOTALLY RULES!" (Critic's Pick) and The Washington Post hails SIX as "Exactly the kind of energizing, inspirational illumination this town aches for," according to information provided by the producers.
It's been a long road from medieval England to the bright lights of the stage for SIX.
According to a press release, Toby Marlow and Lucy Moss devised the original concept and started writing SIX when they were students at Cambridge University in early 2017. It was first presented as the Cambridge University Musical Theatre Society's submission to the Edinburgh Fringe Festival later that year, playing a one-month run and featuring student actors. SIX went on to get picked up by UK Producers and a new production was mounted, with professional actors and a predominantly new creative team, at the Norwich Playhouse and then again at Edinburgh Festival in 2018.
A limited engagement at the Arts Theatre in London garnered the WhatsOnStage Award for Best Off-West End Production and the show toured the UK in the autumn of 2018 before returning to the Arts Theatre and subsequently the Lyric Theatre on Shaftesbury Avenue. SIX is currently playing an open-ended run at the Vaudeville Theatre on the Strand. SIX earned five 2019 Laurence Olivier Award nominations, including Best New Musical. A UK and Ireland tour is now running concurrently with the London production. An Australian and New Zealand tour will launch this year at Sydney Opera House with dates set for Melbourne, Adelaide, and Wellington.
SIX is produced in the United States by Kenny Wax, Wendy & Andy Barnes, George Stiles, and Kevin McCollum.
Not only is the show entertaining, but the Broadway album also debuted at Number 1 on the Billboard cast album charts and surpassed 6 million streams in its first month.
Mack said the messages in SIX ring true to women even today.
"I think it it's still very relevant today," said Mack, noting that 19-year-old Catherine Howard "dealt with abuse at a very, very young age, which I mean, that that still happens to women and men and, you know, whatever you identify as that's still happening today."
"I feel like as a woman, you can kind of tap into that thought of just living kind of in a man's world," said Mack in an interview. Though times have changed and surely, women have obtained more "equality," "I still get people coming up to me after the show saying 'I can relate to this song because I was in an abusive relationship so it is just heartbreaking to know that she was so young, she was abused and ultimately got executed.'"
Though the messages are real, the show's creators have somehow found a way to bottle up this old tonic in a bloodless, entertaining and brand-new brew, with an all-female cast of talent that, had they lived 500 years ago, would surely have been invited to perform at court.
"I'm biased," she said, "but I think it is an amazing show."
For tickets, visit www.scfta.org and by phone at 1-714-556-2787.