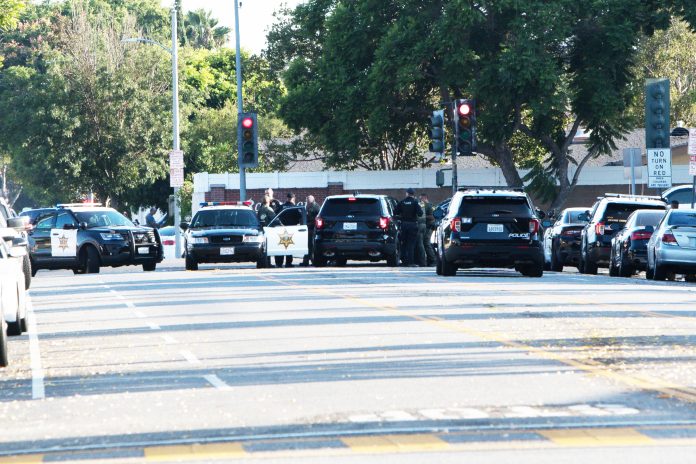 An attempted armed robbery at a Huntington Beach jewelry store prompted a bit of concern in Los Alamitos, Saturday, after one of the vehicles involved apparently steered onto Katella Ave. before being abandoned.
Various reports say suspects attempted to enter the store, exchanging gunfire with the owner before fleeing down the 405 Freeway. One of the vehicles apparently detoured off the 405 Freeway onto the 605, exiting at Katella Ave.
The suspects ditched one of the two vehicles involved on Katella Ave. at Walnut Street/ Wallingsford Rd. at around 4:15 p.m.
According to a statement from Detective Sgt. Kain Gallaugher, police found the abandoned vehicle and immediately issued a shelter-in-place order to protect nearby residents.
"On Saturday, September 3, 2022, at 4:12 p.m, Los Alamitos officers were dispatched to a report of a traffic collision in the area of Katella Ave. and Walnut St. Upon arrival, the officer immediately recognized the vehicle as a vehicle of interest related to a robbery that had occurred in the City of Huntington Beach earlier that evening," he said in the statement.
"With the assistance of multiple police departments and the Orange County Sheriff's Department, a perimeter was quickly established around the area. Los Alamitos Police Department issued a "shelter in place" request while officers conducted a search of the area, said Gallaugher.
"A Los Alamitos officer detained one subject who was later transferred to detectives from the Huntington Beach Police Department. It is unknown if this individual was related to the vehicle or not. No other subjects were located, and the 'shelter in place' request was discontinued once the Police Department felt it was safe for the residents to resume their daily activities."
The investigation into the incident is ongoing.