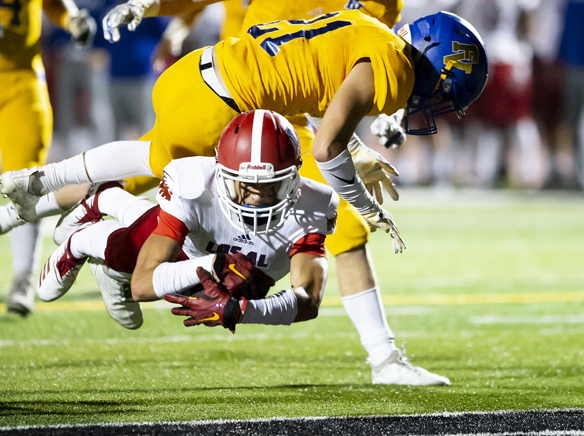 Los Alamitos High's football team had little trouble in its Sunset League opener as the Griffins rolled to a 69-0 win over Fountain Valley, on Friday at Huntington Beach High School.
Oscar Brown got the Griffins on the board immediately as he returned the opening kickoff 85 yards for a touchdown that gave the Griffins a 7-0 lead just 15 seconds into the game. By end of the first quarter, the Griffins led, 34-0 and by halftime, they were up 62-0.
Quarterback Cade McConnell was 9 for 10 for 189 yards and four touchdowns in the first half, while Zack Wagoner had two touchdown runs. McConnell connected with Edwin La Crosse, DeMario King, Kenui Huey and Zack Wagoner on touchdown passes.
Fountain Valley was able to move the ball at times, but the Griffin defense came up with turnovers to thwart drives. Bobby Blandino intercepted a pass and returned it 46 yards for a touchdown.
Later, the Barons were able to drive to the Griffin two yard line, but after failing to break through on a couple of run plays, the Barons tried a halfback option pass. Huey picked off the pass about three yards deep in the end zone and returned it down the right sideline for a touchdown that pushed the Griffin lead to 48-0 late in the second quarter.
The Griffins improved to 5-1 and 1-0 in league play. They will host Newport Harbor on Friday, at 7 p.m. at Cerritos College.