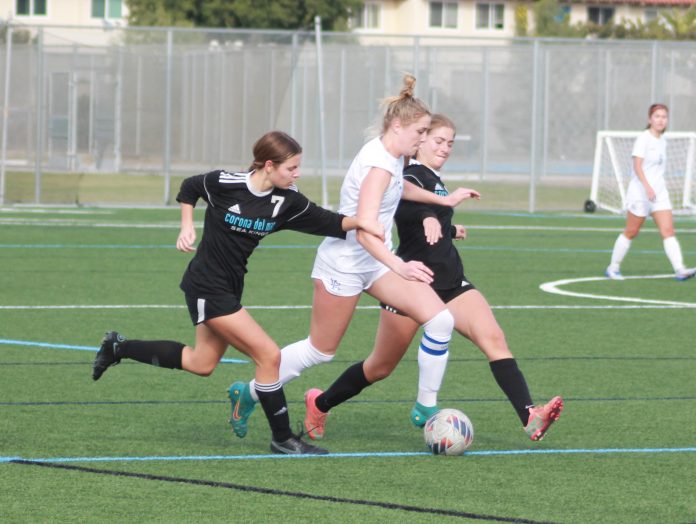 Corona del Mar was able to draw a couple of penalty-kick fouls, both of which they converted, but otherwise Los Alamitos High controlled the game as the Griffins pulled away for a 5-2 win in a non-league game recently at Corona del Mar High.
The Griffins got two goals from senior Kaylee Noble, two from senior Sanaa Guyness and one from sophomore Victoria Bloch as the Griffins improved their record to 9-5-4 heading into league play
The Sea Kings got as close a 3-2 after a takedown in the goal box set them up for their second penalty kick just nine minutes into the second half. Their first penalty kick came about a minute into the second half, after the Griffins had taken a 2-0 lead into halftime. Los Alamitos had extended their lead to 3-1 on a penalty kick of their own, knocked in by Guyness.
After the Sea Kings cut the lead, Guyness struck again in the 17th minute off a pass from Noble. Guyness tapped the ball back slightly to create room to move around a defender and fired a quick shot from just inside the top of the goal box that beat the goalie to the low left side.
About seven minutes later, with the Griffins on an attack, Alina Perez got possession at the top of the goal box and tapped a short crossing pass to Bloch, who fired a shot that glanced off a defender and found the back of the net for the final goal.
Head coach Pat Rossi said that he'd hoped they would be a little more consistent at the end of preseason, he also said they played with better balance against Corona del Mar.
"When we had the ball, we were composed and off the ball, we put nice pressure on them," Rossi said.
The Griffins are using a lot of freshman and sophomore players this year, but also have returned a few seniors that helped the team get to the CIF-SS Division 1 semifinals last year. Among the team leaders are Noble, Guyness and Katie Piper. One of their team captains, midfielder, Alexa Webber, has been out with an injury, but is expected back in a few weeks for the stretch run.
The Griffins opened Sunset Surf League play last week, going 1-1, with a win over Newport Harbor, before falling to Huntington Beach, 2-1. The Griffins were at Edison on Tuesday (past press time) and will host Laguna Beach on Thursday at 6 p.m.