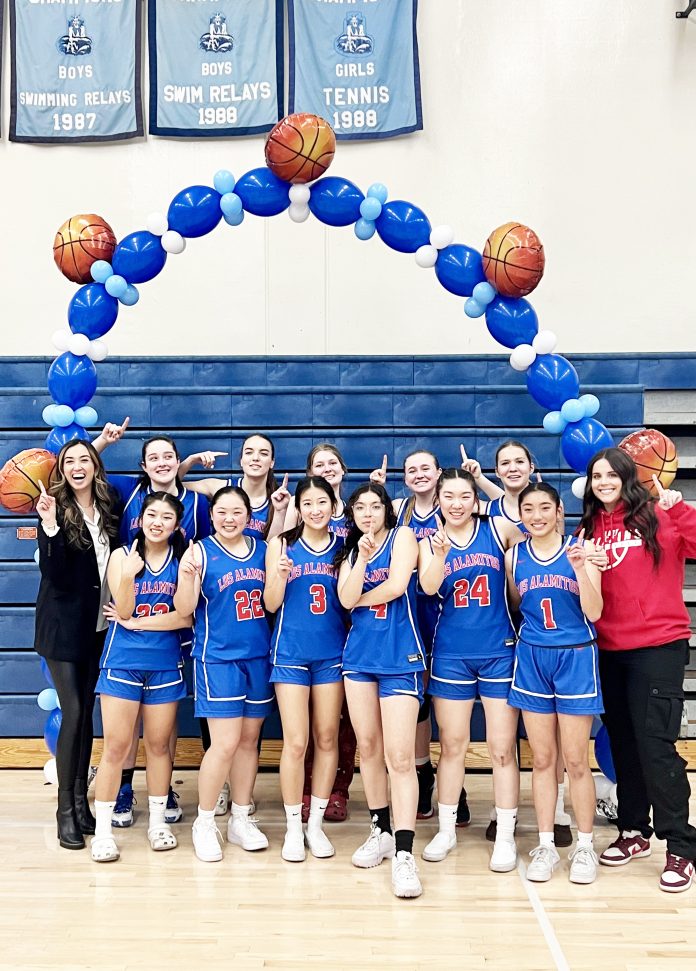 The Los Alamitos girls varsity basketball team seized the Surf League co-championship by defeating Corona del Mar 43-37 in a thrilling season-ending victory that wasn't determined until the last seconds.
The Wednesday, Feb. 1, road win avenged a January 17, 41-35 loss to Corona del Mar (16-11), leaving both teams atop the league standings with 5-1 records and giving the Griffins (19-9) its first girls basketball championship since 2018.
Junior point guard Kayli Liew led the Griffins with 16 points, including 2 threes, 2 assists, and 2 steals. Freshman Tamlyn Yoshida scored 10 points, including 3 threes. Freshman Melanie Stewart chipped in 7 points, and junior center Kassidy Beach added 6 points, 6 rebounds, 3 steals, and 2 blocks.
The hard-fought fourth quarter featured three lead changes and a tie, but Liew and Yoshida each scored seven points to turn the tide. On the first possession, Liew swished a three to give the Griffins a 27-25 lead and from there it was a seesaw battle.
With 1:16 left in the game, Liew hit another three that was answered by a Sea Kings three, leaving the Griffins with the ball and clinging to a 38-37 lead with under a minute to play.
A broken play iced the victory. Yoshida was dribbling on the right side of the front court when she slipped and while falling shoveled a pass to Liew who dribbled left toward the top of the key. The Sea Kings defense shifted and seemingly forgot about the fallen Yoshida, but when she jumped up and clapped for the ball, Liew passed to her and she drained a three-pointer for a 41-37 lead with only 47 seconds left to play. A free throw each by Liew and Yoshida brought the final score to 43-37.
"This was a clutch performance by everyone and I'm very proud of the work all the girls have put in to win a championship," said Head Coach Maya Kennedy.
Los Alamitos, which is ranked 11th in CIF Southern Section 3AA, finished the season winning 11 of its final 12 games and will play California High (11-17) in the first round of the CIF playoffs on February 9, 7 p.m., at the Los Alamitos gym.
The Griffins defeated California 55-25 on December 23, but California finished second in the Del Rio League with a 6-2 league record and finished the season with three straight wins.