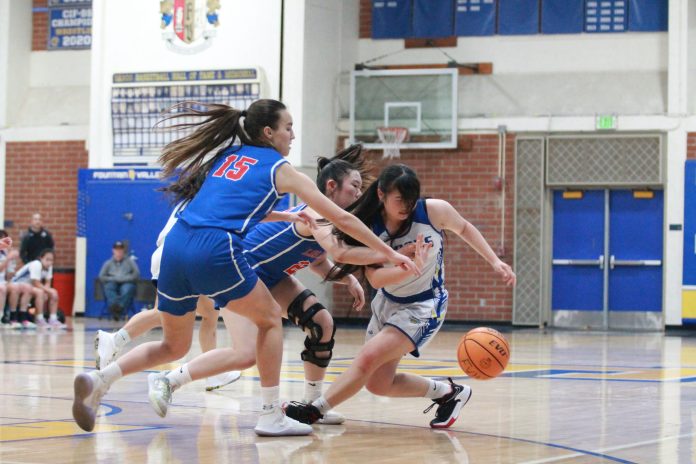 Los Alamitos' girls basketball team led by as much as 13 points in the third quarter, but Fountain Valley fought back to give themselves a chance at a last second win. However, the Griffin defense held up as they came away with a 39-38 Surf League win on Monday at Fountain Valley High.
Junior center/forward Kassidy Beach led the Griffins with 12 points and fellow junior forward Emie Fell followed with 11 points. Junior guard Kayli Liew had eight points and sophomore guard Ava Duarte chipped in five.
Fountain Valley senior guard Mary Nguyen had 12 points to lead the Barons. But in the end it was a defensive battle as the Griffins scored just two points in the fourth quarter, but held the Barons to just seven to preserve a lead and hold on to the win.
After a foul-plagued first quarter, the Griffins began to hit their stride in the second quarter.
The Griffins outscored the Barons 19-8 in the second quarter to take a 27-19 lead at halftime. Beach had seven points in the quarter and Fell chipped in six, including a three-pointer.
In the third quarter, the Griffins took a 36-23 lead when Beach got a pass in the key and laid it in for an open layup.
The Griffins improved to 4-1 in league play and will have a chance to win a share of the league title if they can defeat Corona del Mar (5-0) tonight at 7 p.m. at Corona del Mar High.