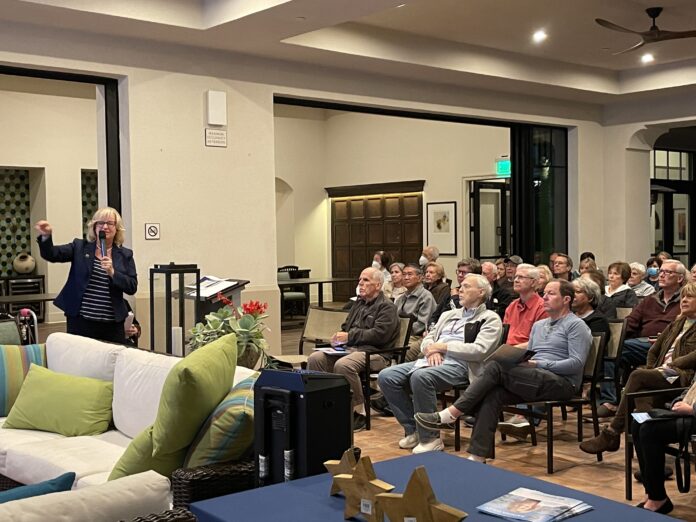 A frustrated group of Cypress residents were happy to hear Orange County 2nd District Supervisor Katrina Foley say she would intervene in a long running "jurisdictional" dispute between the cities of Los Alamitos and Cypress.
Foley attended the group's community meeting this week to provide them with an update of major improvements she's been able to make since being elected in March. At the end of the meeting, residents explained their problem and urged her to intervene.
"I'll see what I can do," said Foley, agreeing to arrange a meeting between Mayor Mark Chirco of Los Alamitos and Mayor Jon Peat of Cypress, but explained that Orange County has no direct control over activities within their respective cities.
In addition, she said her office would meet with the Orange County Department of Transportation to see what assistance they might provide.
A large group of homeowners, representing more than 500 residents who live in approximately 250 homes within the upscale "Ovation" community, told Foley on Thursday they feel "trapped" in their own housing development.
"We are trapped," said meeting organizer Marilyn Reames, who said she is simply "a highly motivated homeowner."
"It's absurd," said Reames, who said she was assured by sales staff at the time of her purchase in 2018 that a traffic light would be installed at the intersection.
At issue is the lack of a traffic light at the intersection of Katella Avenue and Enterprise Drive, which means that residents leaving the development cannot turn left onto Katella, said Reames.
In addition, she told Foley that for residents returning home on Katella, the lack of a traffic light at that intersection also means they cannot simply turn left onto Enterprise to get into the development.
Instead, residents must either cut through the parking lot at Cottonwood Church or otherwise go several blocks and make a U-turn.
Reames said Ovation is a senior community and having to endure such traffic limitations are especially dangerous.
She told Foley that a report provided by the Los Alamitos Police Department, provided to residents, cited a study of the affected traffic area that indicates there have been eight accidents and 256 citations in the past three years as residents defy the signs to make left turns (and for other infractions).
"It's dangerous and someone's going to get killed," Reames warned.
Part of the problem is that the city limits of Los Alamitos and Cypress literally divides Katella Ave. at that point. Therefore, Reames said while the Ovation is located in the city of Cypress, council members keep referring them to the city of Los Alamitos, where a signal would have to be installed.
The Ovation housing development was approved as "Barton Place" by the Cypress City Council on October 26, 2015. The Cypress approval resolution notes the community was once part of the Los Alamitos Race Course, specifically part of the Cypress Golf Course, which closed in 2004.
The site was included in the 1990 business and professional center plan, its land use authorized by Measure L and was the 33-acre track sold to C33, LLC after residents protested using the property for a Prologis location.
The conditional permit (CUP) approved by the Council did include a section regarding traffic conditions but made no mention of a traffic light at the Katella Ave./Enterprise Drive intersection. It did include a reference to excessive left turns into the 5-acre commercial section of the development, but even then, the CUP commits the city only to "explore" options.
In the permit approved by Cypress, the conditions regarding "access" to the senior community were the approval of electronic gates and a second entrance for emergency vehicles only.
Reames told Foley that it is not a question of money but of intent. "I don't think Los Alamitos residents want us to have a signal light," she said.
Located straight across the intersection where the residents want the traffic signal to be installed is a housing community within the city of Los Alamitos.
She pointed to a March 19, 2019 letter from former Los Alamitos City Engineer David Hunt which denied an application from SRM Development, LLP for a traffic signal at Enterprise Drive and Katella Ave.
A "review of the application and associated material has concluded there is no indication or representation of the need for a traffic signal to be established at the intersection (Katella @ Enterprise)," said Hunt.
Before concluding there was no need, Hunt explained that in a review of the Traffic Impact Study in the Barton Place Environmental Review and the Trip Generation Analysis (both in 2015), he had not "found any existing or projected traffic impacts would warrant or justify establishing a signal," Hunt wrote.
Meanwhile, after getting a cold shoulder from both local governments, the residents have turned to Foley, who has now agreed to at least bring the mayors together to see what, if anything, can be done to provide a solution for the very frustrated residents.
Foley gave a report on her multiple accomplishments over the past few months, saying "I am so honored to be able to represent Cypress," even though her current district has only a tiny slither of the city. Also, she said certain redistricting proposals do not include the city.
Nevertheless, said Foley, "I'm here to listen."