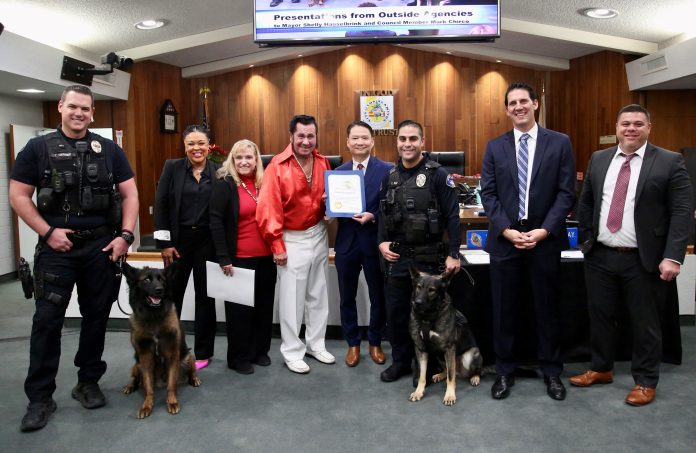 Ok, it finally happened.
Elvis Presley, the late and legendary entertainer, has a police dog named after him, and no, his lyric "You ain't nothing but a hound dog" is not the reason.
Prowlers in the city of Los Alamitos soon better beware of Elvis, the city's new police dog.
According to Police Chief Michael Claborn, the city honored local donor Kenny Brandyberry at the city council's last meeting of 2022 (Dec. 19) to thank him for the financial contribution that helped the city obtain its newest member.
"Kenny did have a unique request as part of the donation," said Claborn. He said, "Brandyberry is an avid Elvis enthusiast (as you can see from his photograph)," and "Kenny requested that the dog be named Elvis, in honor of the iconic musician."
According to Claborn, during that meeting, a local resident, Kenny Brandyberry, donated to the Foundation to help the Los Alamitos Police Department start a K-9 Program. Kenny was quoted as saying, "I have been in Los Alamitos for 60 years. I love Los Alamitos."
Brandyberry's philanthropy has been felt in Los Alamitos for many years, as he is a long-time supporter of Casa Youth Shelter, a non-profit that serves and nurtures youth in crisis with shelter, counseling, and support services.
In part to recognize his community service, Brandyberry was also chosen as the 2017 Los Alamitos Citizen of the Year at the 42nd Annual Americana Awards.
"As the Chief of Police in the City of Los Alamitos, I can attest that it is only through the support and generosity of people like Kenny Brandyberry that we will be able to expand the services we provide to our community," said Claborn.
"We have a few more steps in the process before Elvis will be able to patrol the streets of Los Alamitos, but we can't thank Kenny enough," he added.
The donation was made through the newly established Los Alamitos Community Foundation, he said.
"The City of Los Alamitos created the Los Alamitos Community Foundation, a non-profit, created to encourage, support, and facilitate philanthropy and events to improve and enrich the lives of people in Los Alamitos," it said in a press release.
"The foundation designated three City projects that it will support through its fundraising efforts. Those projects include an Urban Forest Program (Development Services), an Adaptive Recreation Program (Recreation and Community Services), and a K-9 Program (Police Department)."