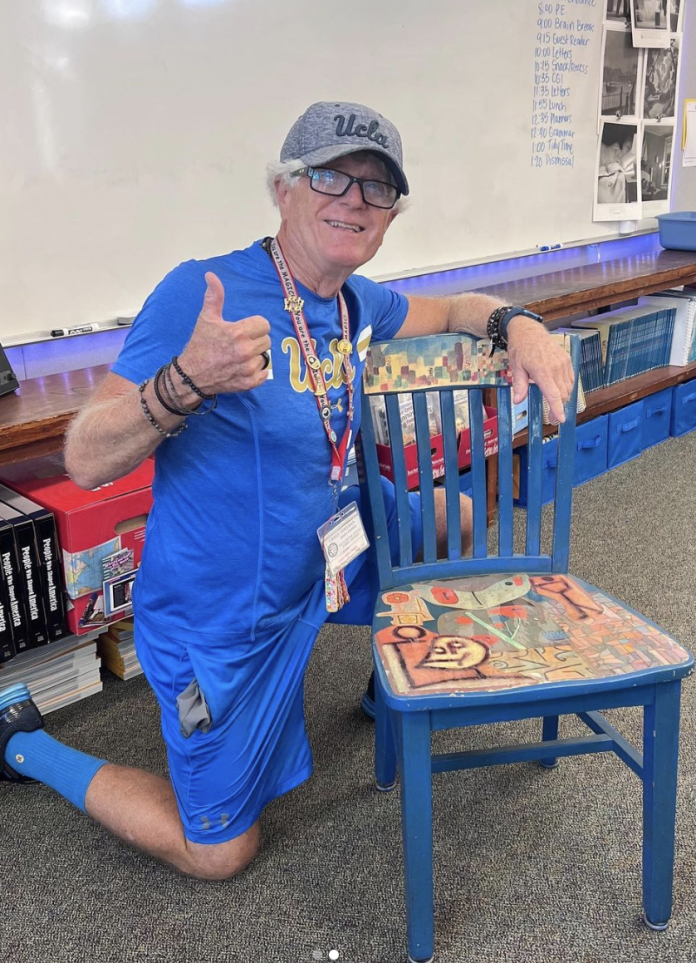 Naomi Breedlove's classroom at McGaugh Elementary School was the setting for a full circle moment earlier this month.
Chris Forehan, Vice President of the Los Alamitos Unified School District Board of Education, is known for his frequent visits to the district's nine campuses to serve up lunch or share a story. On this day he was in Breedlove's classroom in Seal Beach reading the book "Giraffes Can't Dance."
"Having Mr. Forehan in my classroom reading to my fifth graders was overwhelming!" Breedlove wrote in an email to Spotlight Schools.
Forehan is more than just a school board member to Breedlove, who is in her first year teaching in the district. He's also the person who hired and mentored Breedlove's father, Rob Williams, a beloved teacher in the Norwalk-La Mirada Unified School District who passed away during what was arguably the prime of his career.
"I hired Rob Williams to teach second grade for our school," Forehan, who was principal at Chavez Elementary school in Norwalk at the time, wrote in a recent email. "He was an exemplary teacher."
Forehan said Williams was married with no kids when he started at Chavez. By the time Williams had been promoted to other positions in the district and was named the district's teacher of the year in 2011, Williams and his wife had four children, including Naomi.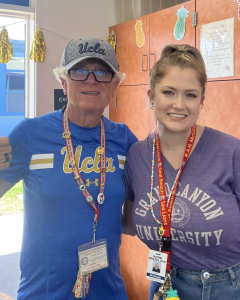 In March of 2012, at the height of his impact as an educator, Williams died after a brief illness, according to a news story written at the time. The news report said "his passing has left a huge hole in the hearts of teachers, administrators and for the thousands of children he instructed during his tenure with the Norwalk-La Mirada Unified School District."
Williams was just 50 years old. Breedlove was 18.
A meaningful reminder of Williams' legacy is a desk chair Forehan created for him while the two worked together. The chair is bright blue and covered in decoupage featuring images Forehan cut from calendars. It was inspired by Chavez Elementary's Famous Artist program where students would learn about master artists and their works. Forehan said he created the custom artist chairs for multiple staffers.
"I remember my dad talking about 'the chair' growing up," Breedlove said. "My dad was a lover of the arts and always worked so hard to incorporate that into his teaching." Breedlove said her mom knew to treasure the chair and keep it safe after her father's death, perhaps knowing what the future held for her daughter.
"Growing up my dad always told me I would make a great teacher. I knew that his words must mean something because he was a teacher himself, but I did not really understand what he meant by that," Breedlove shared. She said it wasn't until about a year and a half after he passed that she discovered her purpose in life, which she says is working with kids.
Breedlove was a student teacher at McGaugh and most recently worked in El Segundo before returning to the Seal Beach campus to teach fifth grade. She said the artist chair has always been a fixture in her classroom.
"When I prepared my first ever classroom, I was so excited and proud to be able to display 'the chair'! I love sharing with my students the significance of the chair. The feeling of sitting in it to read to my students is indescribable," Breedlove wrote.
Note leads to a reconnection
At the start of this school year, Forehan wrote welcome notes to all the new classified and certificated staff in the district. Breedlove received one of the notes and instantly knew Forehan was the educator with deep ties to her father.
"However, with my last name not being my maiden name, he did not know who he was writing to!" Breedlove said. She knew she'd eventually run into Forehan but it happened sooner than she expected when the board's V.P. was serving up pizza at the McGaugh cafeteria last month.
"Naomi came up to me and thanked me for the note," Forehan recalled. "She asked if I knew her…I looked at her name tag and said no I don't think so. Then she introduced herself as Naomi Williams…immediate connection!"
Breedlove said she shared a brief hug and conversation with Forehan. The two agreed he would visit her classroom, read to her students and sit in the chair Forehan had made for her father so many years ago.
"My journey to teaching was long and not always easy. Being in this dream position as a 5th grade teacher in Los Alamitos [USD] is surreal. Now add to the mix my dad's mentor, friend, and source of inspiration- it was amazing!"
On the day of the reading, Forehan selected the book "Giraffes Can't Dance," a 1999 story of a jungle animal who eventually finds his own unique groove. Forehan said it's a book that Williams read to his class each year. "The author's message," Forehan said, "Never Give Up."
"The kids had a blast and have had something to say about it every day since," Breedlove wrote, adding later, "This is what education is all about. Building relationships, making connections, and sharing a passion for teaching kids!"
Forehan shared the moment on his Instagram account including pictures of his reconnection with Breedlove and the chair.
"My dad never saw me embark on this journey to teaching but I know he would have been elated. As an adult, I understand the impact he had on his students. The way his former colleagues and students talk about him is inspiring. He left a legacy that is affecting people a decade later," Breedlove wrote. "I am so grateful to have reconnected with Mr. Forehan– an absolute legend! I know my dad is so proud."
Forehan said after the visit he smiled all day. "I know that Rob was looking down with a smile on his face."
For more local education news, visit www.SpotlightSchools.com.