When returning from a lunchtime walk near her office on Friday, Cypress School District Superintendent Anne Silavs said she was surprised to see a group gathered at her office.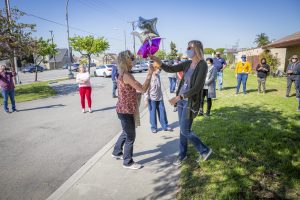 A group of friends, officials and school staff had gathered to congratulate her on being named the 2021 Orange County Superintendent of the Year, announced by the Association of California School Administrators on Friday.
The ACSA is "the largest umbrella association for school leaders in the United States, serving more than 17,000 California educators," according to the group's website.
Once Silavs reached her office, she was informed of the honor.
"I'm very proud of everything we've been able to accomplish within the Cypress School District," said Silavs, "especially during the pandemic." Silavs said upon learning that she had been named the Orange County winner by the state association.
Among those gathered quickly to congratulate her were the Cypress Board of Trustees, city officials, fellow administrators and well-wishers.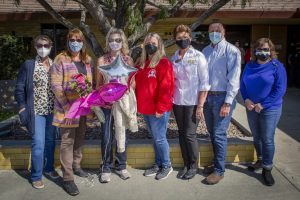 Dr. Tim McLellan, Assistant Supt. for Business Services had been quietly making the arrangements, hoping to keep the news a surprise until she returned from her customary walk.
"Without question, Anne is an important member of the Cypress School District community," said McLellan. "She is our student-centered leader, and has balanced being concerned about the well-being of staff and students during the pandemic with seeing all students learn and achieve," he added.
The Cypress School District serves six elementary schools within the city Cypress. It feeds students into the Anaheim Union High School District.
Silavs says she is especially proud of the fact that the Cypress School District system "never closed" during the pandemic, though they quickly transitioned to offer families three options: traditional, hybrid or distance learning.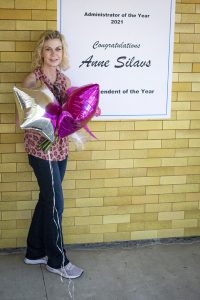 Following the lockdown, Board of Trustees Chairwoman Bonnie Peat said Silavs put together a plan for distance learning and had it before the board for approval within seven days.
"She (Silavs) has effectively collaborated with both the Classified and Certificated associations to ensure effective two-way communication. It has not been, nor does it continue to be, an easy task," said Peat. "Anne continues to lead and guide with courage and dedication," she added.
"Anne demonstrates high levels of leadership ability, interpersonal skills and commitment to providing exemplary education opportunities," she added.
"Anne encourages the development of programs that foster creativity and excitement within the District. STEM is one program that fits this description and has really taken hold among our students. This includes developing a partnership with the Department of Defense utilizing their innovative…technology program to provide students with hands-on experience in technologies, the chairwoman said.
Cypress city manager Peter Grant told the state association in a support letter that Silavs' leadership has been an asset for the city. "Cypress is one of Orange County's hidden gems and residents take great pride in our outstanding school district," he said, "I have seen exactly how its decision to open schools and its unwavering commitment to safety has positively impacted our students and the community at large."
"As a principal in the Cypress School District," said Jacki Teschke, Principal of Clara J. King Elementary. "I have the advantage of having close relationships with the school community while also working closely with district personnel," she said.
"We have been genuinely grateful for the strong and compassionate leadership of Anne Silavs during the past six years, and especially during very challenging times like these in education and society," the principal said.
"This year, everything Anne communicates emphasizes COVID-19 safety and how parents can be active participants in their children's education," the nomination form states.
"I'm very flattered to be recognized," said Silavs, though she thinks everyone involved in the entire school district shares in the honor. "It was an amazing team effort," said Silavs.
Silavs was named Cypress School District Superintendent in 2015. Previously, Silavas served as Asst. Supt for Instruction in Fountain Valley, Director of Curriculum and Instruction in Ocean View, and served as a middle school principal and other administrative posts in the early 2000's.
Aside from the pandemic, Silavs led the district to sell the acreage on which its administrative buildings stand and purchased a modern office building to which the district will move this summer.