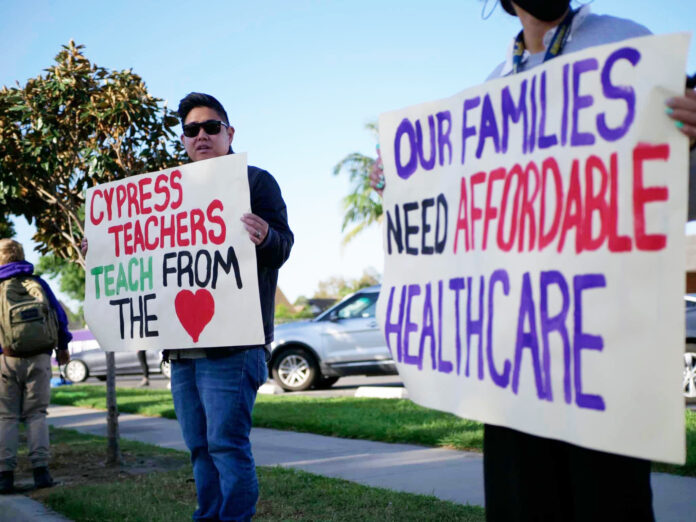 The Cypress School District and its 188 teachers are headed to mediation this week after a last-ditch effort to reach an agreement that ended in an impasse.
While there is a process required to proclaim an official "impasse" of the negotiations, Cypress School District officials confirmed that is exactly where the unresolved negotiations are headed.
In addition, Dr. Timothy McLellan, Assistant Supt. for Business Services, said in fact that this could be the first time the district and its teachers fail to reach a labor agreement since the district was formed in 1895.
"Maybe it happened somewhere along the way, but this could very well be the first time," he said.
As stipulated in their respective agreements, the two sides must now surrender to a third-party negotiator, an arbitrator, who will try attempt to bring the sides together.
When, in the district's opinion, it became obvious teachers did not understand the district's financial position, McLellan said the district's five-person team thought it was time to try something different and declared they preferred to signal a mediator step in.
"We were ready to continue talking," said Elizabeth Dunagan, the teaacher's top negotiator, but she said the district did not.
"We also want to continue talking," said McLellan, but he thinks that doing so with a third-party negotiator may be able to bring a "fresh perspective" to the teachers.
"We decided to start the proceedings for an impasse," acknowledged McLellan, "and I'm optimistic a third party will be a positive thing."
Moreover, he suggested an independent arbitrator could help teachers "understand the seriousness of the situation."
After multiple negotiating sessions, the two sides have failed to reach an agreement on pay raises and benefits.
The two sides began negotiating in January, following the district's receipt of a 5.07 percent cost-of-living increase from the state's funding formula.
McLellan said that COLA brought in approximately $1.2 million in "new money" to the district.
Teachers were demanding that more of that COLA be used to increase their salaries and benefit increases than the district was apparently willing to spend.
In principle, McLellan said the district does not disagree that the district's teachers need a raise but noted said teachers must understand "that you can only spend a dollar once."
The CSD negotiator said the teacher's original request for a six percent pay raise with no change in benefit structures was simply unworkable.
Not only are insurance premiums rising, but so are pension costs and with inflation at near 8 percent, everything the district needs to operate costs more, said McLellan.
"Our job is to manage the entire process," said McLellan, maintaining teachers were offered a fair deal.
Regarding comparisons to other districts, the Assistant Supt. said while some Orange County districts did give their teachers a 4.0 percent pay raise this year, they simultaneously instituted "realistic caps," creating a "cap" of the amount over which they will not pay for insurance premiums.
McLellan acknowledged this change could impact some teachers' families but would have no effect per se, on any CSD employees, per se, as every system employee's premium would be covered.
"Under any option we offered, the district will be responsible for the health benefits of every employee," he clarified.
In some cases of employees with larger families, there could be a differential in the cost of the premiums and the amount paid by the district to cover them, he acknowledged.
"We offered the teachers a 4.5 percent raise," said McLellan, but that would be with a cap similar to others instituted in some OC districts.
As an alternative, the district offered teachers a 2.5 percent pay raise but would agree to not touch the current health benefit structure across the board.
On Thursday, Dunagan said the teacher's counteroffer dropped their request to 4.75 with no caps, and while the district did move from 2.5 percent to 3 percent before the negotiations were halted.
After it was obvious there would not be any additional movement, McLellan said the district's five-person negotiating team opted to pull the plug on the negotiations, announcing they would prefer to start the process that will end in an official "impasse."
Brittney Cook, an activist with children in the system, said "as a parent, I'm disappointed and disheartened that we're at this point. The Cypress School District's courageous leadership that I've always known, and loved, is looking a lot more ineffectual."
"The teachers and staff at our schools have literally risked their lives over the last few years for our children and it seems to mean nothing at this point," she said. "I hope for the sake of the community as a whole that we can come together and carve out an effective compromise. Until then, I'll be out there every Wednesday morning, holding my sign and standing with our teachers."
But why, after all these years, did the negotiations break down?
"Yeah, we've been trying to figure it out ourselves," said Dunagan. "I know our board isn't especially new, many of them had been on for a few years. And by and large, we've always felt that the board was very supportive for the teachers, and so I'm really not sure where this is coming from," she said.
Obviously, as an employee of a school district. You want your district to be financially solvent, that's a priority," the ACT negotiator said, adding that teachers also know that Cypress, like other districts, is facing declining enrollment, yet "we really feel like the district can do a little better," she said.
"And our teachers came back last year and worked during a pandemic, five days a week in a classroom with students from the end of September of 2020. Through the entire school year," said Dunagan, while surrounding districts did not.
"I mean, obviously Anaheim Union never even opened," said Dunagan.
It is a fact that Cypress received recognition for its work during the pandemic. In fact, the Cypress Elementary School District Superintendent, Anne Silavs, is the reigning Orange County Superintendent of the Year.
"We were right back in that classroom at the end of our winter break, just like every other regular year, and the teachers who were willing to be in their classroom with 26 students a day for seven hours a day during COVID, that needs to be recognized," said Dunagan.
Moreover, Dunagan said teachers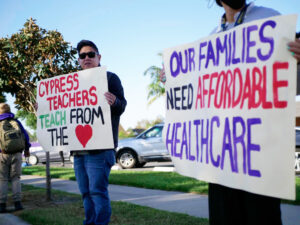 in Cypress have always been willing to work with the Board of Trustees and did it again during the pandemic.
"And if the district requested us to come back in the classroom, we could find a way to make that work. We were willing to make that work. So then, for the very next year for them to come to us and say well, we know you did more because we asked you to, but we're not willing to do more for you. It's just upsetting," said Dunagan.
"I think that we are going to add some other community activities where we let the community be aware of the fact that the teachers are at an impasse, and that we really feel like the district can do a little better," she said.
Cara Patton, President of the ACT, confirmed they would increase public support.
"I'm hopeful that our negotiating team in the district can get a mediator assigned quickly and that we can meet over the summer and make some progress together so that it really has as little impact on the students as possible," said Dunagan.
"The last thing any teacher wants is to be distracted by their income while trying to teach a classroom full of kids."
Editor's Update: The ENE has learned the two sides met in what appears to be a last minute attempt to avoid an impasse late Wednesday but failed to reach an agreement. Watch for the latest in next week's Event News Enterprise.