Cypress' oldest state park will receive a massive makeover by 2025 after the city council passed a preliminary design budget increase on Monday.
Approved in a 3-1-1 vote to be financed by a loan from the City's General Fund, the newly passed renovation plans for Arnold Cypress Park feature $20 million worth of add-ons and upgrades—a $5 million increase from its original allocated budget.
"I love this design. Although it is going to cost us a little bit extra money, I think that if we delay, it's going to just increase the total cost of the project over time," said Mayor Pro-Tem Anne Hertz-Mallari, on the approval of renovations for the historic park.
Built in 1949, the city recognized the 73 -year-old park for its inefficient layout, citing that the park "creates public safety challenges" and is "overdue for major rehabilitation."
"That part of the community has gone a long time with a park that needed some attention, and I think we should do it right, "said Mayor Pro Tem Hertz-Mallari, validating the budget increase required to meet construction inflation demands.
The recommendation to accept the design and amend budget allocations for the project received two favorable votes from Mayor Pro Tem Hertz-Mallari and Councilmember Jon Pee and one declination vote by Councilmember Frances Marquez.
Meanwhile, concerns regarding general economic inflation were cited in Councilmember Marquez's declination vote to amend the Seven-Year Capital Improvement Program to update funding for the project.
"I do think it's beautiful but I will be voting no….we are heading into tough economic time right now. We've already been in one and I'm just concerned about the financing process," said Councilmember Marquez.
The costly project is expected to be re-paid for by The District's annual residual Property Tax Increment revenues over twenty years.
In addition, financial concerns echoing those of Councilmember Marquez were also brought forward by residents attending the meeting.
"The country is a little shaky with finances right now…when we had our last economic downturn, a lot of our housing values fell and a lot of people appealed with property tax evaluations and got no property taxes. So I would like to see some analysis taken into account and repayment of loan for this specific project," said Cypress resident Brooke N, in regards to the financial aspect of the preliminary design.
The preliminary design—drafted with the help of public feedback and city services—has been a community reimagining effort since January 2020.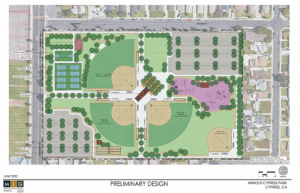 Directed by the council to keep the park's primary purpose as a home for Cypress girls softball, youth sports groups and surrounding residents were the main target of interest for the renovation.
Feedback from three community meetings and 645 surveys conducted in recent years about the park renewal were reflected in the main prospects design company MIG presented at the July 11 meeting. The approved preliminary plan consists of:
• Four softball fields ranging from 175 feet to 225 feet from home plate to the outfield, which is consistent with standards for fastpitch softball
• Lighting for three of the four softball fields
• Six bullpens and three batting cages
• Bleacher seating
• Eight lighted pickleball courts
• One lighted full-court basketball court
• Walking/jogging trail
• Children's play area
• Fitness area
• Restroom building
• Concession building
• Storage building
• Picnic amenities (pavilions, benches, tables, barbecues, etc.)
• Approximately 260 parking spaces, including electric vehicle charging stations.
Advocates for the park's redesign–-including members from the Cypress girls softball leagues—sat patiently in attendance during the meeting as they awaited to receive council direction on the proposal.
"The goal of this new park should be to provide the girls of Cypress the fields they have always dreamed of playing on. And this design does," said Amy Behen, president of Cypress Girls Softball League.
"All that said, we urge you to amend the seven-year capital plan to update funding for Arnold Cypress Park rehabilitation," said Behen.
As Mayor Paulo Morales signed off on the proposal, audible cheers from the softball crowd came from the audience.
Community outreach and public feedback are still being considered for the upcoming park through August. Furthermore, the timeline for