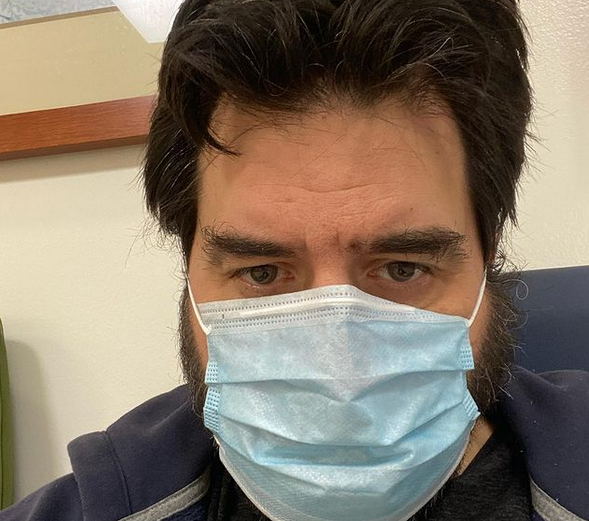 By John Underwood
As we all begin to shed our masks and roll our sleeves back down, eagerly leaning into a state of mind we would like to think of as post-COVID "back to normal," about the last thing we want to wrap our minds around is the concept of COVID-19 lingering on among us into the unforeseeable future. But it appears with new variants of the virus surging forward we in the OC and across the state might have to scale back our expectations to a new normal that at least for the time being will likely include COVID in the mix.
As Orange County's chief epidemiologist and oft quoted official county authority on all things COVID, Andrew Noymer, told the OC Register recently. . . this pandemic is not over. "California's vaccination rate [at 61.5% per the Cal. Dept. Public Health as of 7-21-21] is not high enough to put this [COVID] in our rearview mirrors," Noymer said. "Even as infections are going down among those who have received shots. . . they are climbing among those who haven't." Currently Orange County vax rate [at 53.38%] has plateaued below even the state average and is clearly playing a role in the county uptick in Coronavirus cases.
But there is another reason to refrain from banging the post-COVID party gong just yet. There is a segment of the COVID-stricken population emerging from the storm of data about this pandemic that has until now gone largely unaddressed by a medical establishment frantic to save lives and our hospital systems from overload for the past year and a half. These are the symptomatic COVID cases who did not overcome their symptoms in two weeks or 28 days as predicted by our health care agencies and the CDC.
They are the so called "long haulers" who largely suffered at home in silence over the course of the pandemic with intermittent crashes that landed them for short periods in the ERs. Their symptoms range from monthlong headaches to debilitating joint pain, profound fatigue, hair loss and loss of smell, shortness of breath, chronic lung congestion progressing to pneumonia and often congestive heart disease, kidney, liver and even GI tract involvement, clotting blood, and even stroke.
They have been with us since the start of the pandemic and are with us now in ever greater numbers than can be disregarded as simply anecdotal cases relegated to footnotes in the medical literature. According to virologists and epidemiologists from UC San Francisco to Johns Hopkins Hospital these Long COVID patients are presenting in anywhere from 20-60 % of acute SARS/Covid cases, exhibiting a cascade of symptoms that extend far beyond the acute phase of infection. Some now are into their second year of perpetual suffering.
The response by the medical community, though understandable under the urgent pandemic conditions of the last year, has left most of these Long COVID sufferers, at best, with only cursory baseline response from doctors and hospital facilities that have had medical hands on them. At worst, these walking wounded have been relegated to palliative care or even subjected to downgrading of their often many symptoms to a diagnosis of depression or other behavioral issues by physicians and insurance providers who offer few medical treatment options. How many of these walking wounded currently reside in OC is not known because until now there have been few clinicians willing to characterize and treat them.
We do know that there have been over 250,000 diagnosed cases of Acute SARS/COVID-19 in Orange County to date and this number is rising. If only 20% of that number are "long haulers" (a conservative estimate, say Johns Hopkins researchers) there may be 50,000 or more Long COVID sufferers receiving little or no medical treatment at this time within the 25-hospital system and the public health care network of Orange County.
The good news, though long overdue in OC, is that finally recognition and help is on the way from Orange County's UCI Medical Center, which has established two pilot satellite clinics, one in Tustin and one in Costa Mesa, to specifically attract, document, and treat Long COVID patients within the county with a multidisciplinary approach that can address the many simultaneous symptoms a patient may present with. The hope is that other hospitals, public health agencies and medical insurance providers will soon follow suit and acknowledge the care gap that has arisen in the aftermath of this pandemic and begin to address this hidden population of extended COVID sufferers across the county.
As a Los Al TV producer, I am presenting an hour-long special program featuring the individual COVID journeys of several "long haulers" familiar to our own west OC communities. We also visit one of the UCI COVID Recovery Clinics now treating these chronic COVID patients, and feature the tireless efforts of one UCI professor of nursing in sounding a call to action within the medical community to begin to validate and address the medical needs of this forgotten army of COVID-19 survivors, the Walking Wounded of the coronavirus pandemic.
Raising awareness and hopefully treatment options for the literally thousands of Long COVID patients of Orange County should be more than a matter of medical equity for those who presently suffer in silence and obscurity. It should be a wake-up call to all who entertain the notion that after a year and a half of pandemic we are finally done with COVID. It should be amply evident from the rising case numbers, the number of unvaccinated cases returning to ICUs, and the large percentage of COVID sufferers who are caught in a "long haul" cycle of cascading symptoms, that COVID-19 is not done with us.
John Underwood is a former editor of the News Enterprise.