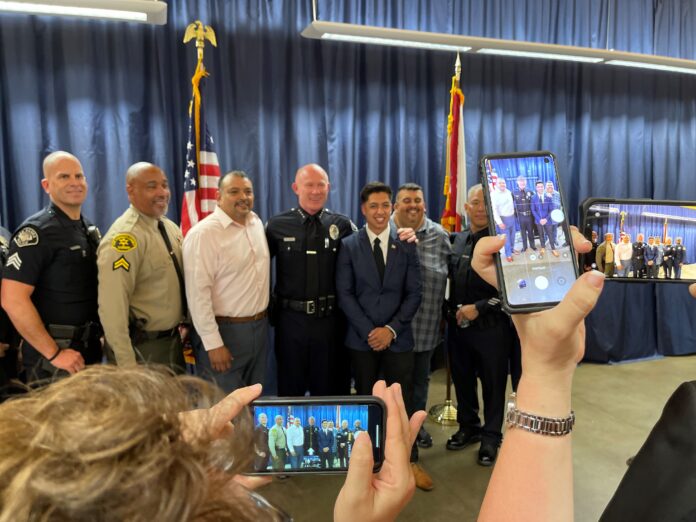 Los Alamitos Police Chief Michael Claborn shared a vision of community-based law enforcement Thursday to an overflow crowd of friends, supporters and fellow law enforcement officers.
Although he's been on the job for a few weeks, the newly hired Los Al police chief was officially sworn in this week during a ceremony attended by fellow officers and police chiefs from throughout Southern California.
Los Al city manager Chet Simmons, acting as Master of Ceremonies for the event, welcomed the many public safety professionals.
"Thank you for your dedication to public safety," said Simmons.
"I know the stresses and the dangers are real," said Simmons in greeting the standing-room-only crowd.
Claborn, an Army veteran, chose to be sworn in at the Joint Forces Training Base in Los Alamitos.
Included among the 250 guests were Orange County Sheriff Don Barnes, OC Fire Authority Chief Brian Hennessy, CFA Division Chief Ron Roberts, Police Chief Mark Lauderback of Cypress, Chief Darin Lenyi of Westminster, Chief Terry Kim of La Palma, and more than a dozen other key police and elected officials.
A very large contingent of officers came from the Santa Ana Police Department, Claborn's most recent employer before being named Los Al Chief.
Los Alamitos Mayor Shelley Hasselbrink, who had the honor of administering the oath of office to Claborn, recounted that he is a U.S. Army veteran, having served in the storied 101st Airborne Division.
After serving in the Army, she said Claborn began his career in law enforcement with the Los Angeles Police Department, later transferring to the Santa Ana Police Department and before being selected to serve as the Chief of the Los Alamitos Police Department.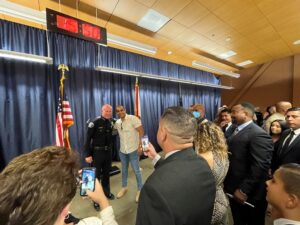 In Claborn, said Hasselbrink, the city believes it got exactly what it wanted in a police chief. She read a list of several qualifications the search committee hoped to find in candidates, including being active in the community and demonstrated leadership skills and said Claborn "checked all of the boxes."
With his right hand held high and his family at his side, Claborn became the 14th Chief of Police in the city's history to a roaring ovation as Mayor Hasselbrink issued the oath of office.
"Isn't this [Los Al] a fantastic city to call home," asked Claborn, as he began by thanking everyone who'd helped him along the way and those who worked to prepare the swearing-in event.
"As we grow older," said Claborn, "we begin to see the world through our children's eyes," he said, suggesting that he was already thinking about the kind of community in which he wants his young children to grow up in.
"A place where people take care of each other. It's a place where people not only know each other but where we wave at one another when they cross paths. A place where people strive to be kind and good citizens," said Claborn, "a city that still has a small town feel where I have the honor of becoming its next Chief of Police.
Claborn then turned his attention to the men and women in the Los Al Police department, whom he said works everyday to retain public safety and its quality of life.
"All of us they get to live in this great town are kept safe because of the outstanding work by the men and women of the Los Alamitos Police Department," he said.
"Thank you for doing your job every day," Claborn said, "that requires you to say goodbye to your own families. And for some of you, to put your life at risk for the families that live and work in the city. Your dedication to protecting and serving the community inspires us all."
"You are our heroes and I'm honored to serve as your chief," said Claborn.
Claborn spoke emotionally about the exceptionally large contingent of officers from the Santa Ana Police Department.
"They helped me find my skills as a police officer. They taught me how to give a voice to victims of violent crimes. They taught me how to treat both community members and suspects with dignity and respect," said Claborn.
"They taught me how to take care of my fellow officers supporting them and their families. They taught me how to handle critical incidents and collaborate on the county wide scale and they also taught me and represented something much bigger than myself every time," he added.
"I will always be grateful to the men and women of the Santa Ana Police Department for making me the officer, the leader, and the man that I am today," said Claborn.
Claborn struggled for composure as he spoke about his family. He introduced his wife Shelley, a corporate executive, and said "with no disrespect to anyone I've ever worked with throughout my 25 years in law enforcement, she's the best partner I've ever had."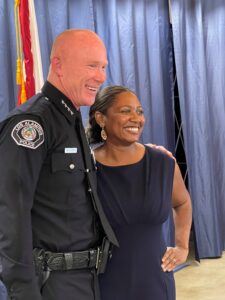 "Every time I needed help, she's been there for me," said Claborn, "you've been there for me throughout my career. You are an amazing mother to our children and an amazing executive, and I would not be standing her at this podium if it weren't for you.
Claborn has two young sons, both enrolled in the Los Al Unified School District and a one-year-old daughter. The police chief is a FNL football coach and is active in other community affairs.
Santa Ana detective Mike McCloud, who worked with Claborn at the Los Angeles Police Department as they began their law enforcement careers together in the 1990's, said he also transferred to Santa Ana about the time Claborn did as well.
With Claborn, said McCloud, "what you see is what you get."
"I remember from our time together at LAPD and when worked in different units together and all the way transferring to Santa Ana PD, he's always the person I can go to for advice but will also come to me in equal form for advice," said McCloud.
"He's a man of faith. He's a man of belief, and he's a leader. And I've always seen him that way," the Santa Ana detective said. "And what you see is who he is." Claborn, he said, "has never been too big for any moment …, but he's [also] never been, if you will, too small to shy away from any challenge."
"From my perspective," said McCloud, "Michael is one of the most genuine, hardworking and most dedicated people I have ever met."