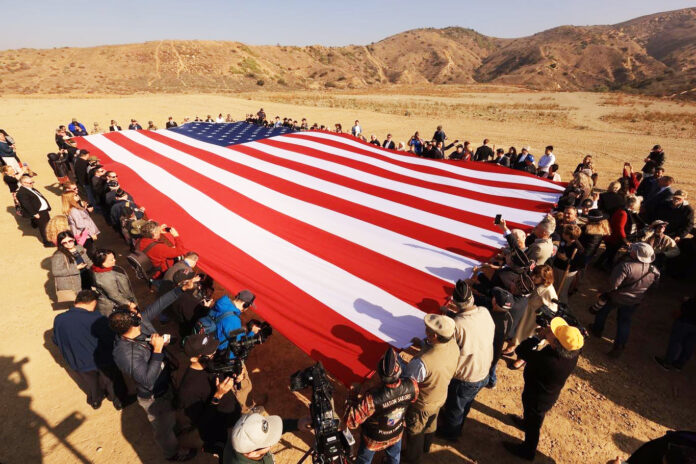 After nearly a decade of debate, the Orange County Board of Supervisors, with bipartisan support from local, state, and federal representatives, celebrated the flagpole groundbreaking at the Veterans Cemetery site in Anaheim Hills.
According to a press release from Supervisor Don Wagner's office, more than 150 Orange County veterans representing various groups attended to show their support. The site is over 280 acres, located off the Gypsum Canyon exit in Anaheim Hills.
In addition, he said that representatives of all 34 cities in Orange County were in attendance as well.
Along with the flagpole groundbreaking, veterans presented a 60'X30' American flag, which will publicly mark the future home for Orange County's first-ever Veterans Cemetery.
Supervisor Donald P. Wagner, Third District led the bipartisan event including the entire Orange County Board of Supervisors, Assemblymember Steven Choi, District Attorney Todd Spitzer, the Orange County Cemetery District, representatives from all 34 OC cities and our veteran community.
The event involved special guests, including an invocation led by Elaine Brattain, Chaplain of the American Gold Star Mothers, a presentation of colors by Veterans of Foreign Wars Post 9934, Pledge of Allegiance by Bobby McDonald of the Orange County Veterans Advisory Council and a poem read by Bill Cook, Chairman of Orange County Veterans Memorial Park.
"Today is a monumental day in Orange County history, as we break ground on behalf of over 100,000 OC Veterans and for our entire County. The men and women who served our great country deserve a dignified burial spot," said Wagner.
"I am grateful we have strong bipartisan support from the local, state, and federal levels. Building a local cemetery for our hometown heroes is the right thing to do, and though it is long overdue, the right time is now," he said.
Supervisor Katrina Foley, who currently represents most of the area, said "I am so proud of the effort to finally bring a Veterans Cemetery to Orange County. Armed Service members deserve to have a final resting place," she said.
"Our County remains committed to serving our Veterans by providing permanent supportive housing, more access to mental health services that address emerging issues such as increased suicides and assisting our Veterans as they return to the workforce. It is the least we can do."
Chairman Andrew Do, First District, who could soon represent the area under redistricting, if and when the current district maps are implemented, said "in Orange County, tens of thousands of refugees like myself, other immigrants, and our children now enjoy our rights as Americans because of the sacrifices made on our behalf by U.S. armed forces."
"We hold a special duty to honor their bravery, sacrifice, and service. It is only fitting to offer our veterans a proper resting place in our county. And no better location than the Gypsum Canyon Site in Anaheim," he said.
"Our veterans sacrificed everything to fight for us and protect the freedoms we hold so dear and we have to continue to fight for them," said Orange County District Attorney Todd Spitzer. "It is an honor to stand here today – side by side with the Veterans Alliance of Orange County (VALOR) as they finally declare victory over the political gridlock that has stalled this project for far too long."