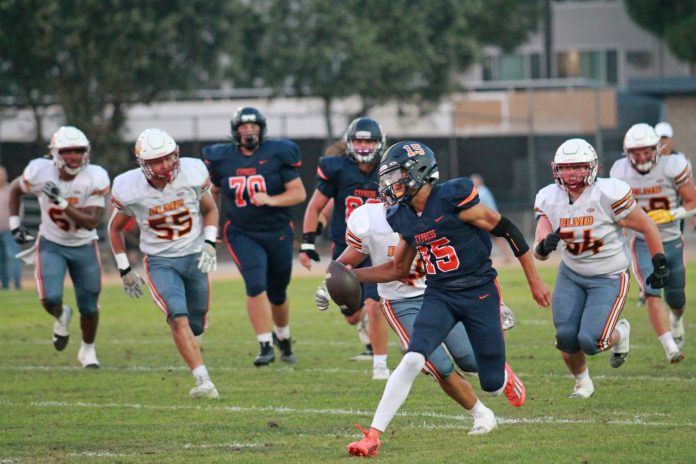 Cypress High was able to shut down El Modena High's offense enough to come away with a 31-14 win in a non-league football game, but the cost may hurt the Centurions on the long run.
Cypress suffered several injuries in the game to key players, adding to some injuries that had already plagued the team starting back during the summer passing tournaments.
A broken collarbone suffered by runningback Destin Sanchez and a wrist injury to wide receiver Bobby Castillo were just two key injuries the Centurions suffered against El Modena. Head Coach Rick Feldman was at a loss as to how the team will try to navigate the next few weeks.
"At the end we were just trying to massage the clock and get the heck out of here," Feldman said.
The Centurions got a strong effort from it defense which shut out El Modena in the second half and allowed only one touchdown, with the second coming on special teams, when the Vanguards returned a kickoff for a touchdown. But the Centurions also pulled off a special teams score that proved to be pivotal.
With the game tied 14-14 late in the second quarter, the Centurions lined up to punt the ball. The receiver failed to catch the ball cleanly, but did scoop it up on the bounce. As he tried to run he was hit and dropped the ball. Junior Matthew Baldonado picked up the loose ball, broke away from a tackler and ran 12 yards for a touchdown that gave the Centurions a 21-14 lead with 2:43 left in the half.
The Centurion defense began to clamp down on the Vanguards and forced a punt that gave Cypress the ball at the 43 yard line. Cypress was able to get in close enough for Logan Kennedy to kick a field goal with :13 seconds left to give Cypress a 24-14 lead at halftime.
They got a couple of big plays on us on busted coverages and misalignments, so came back, adjusted to it, fixed it and the kids responded well," Assistant Coach Jeff Crooks said.
The score remained 24-14 into the fourth quarter and Cypress was looking to run out the clock, when senior running back Rocco Burdett took a hand off and tried running up the middle.
He hit a wall of players just past the line of scrimmage, but kept churning his feet and somehow broke through the pile and raced 36 yards for a touchdown that capped the scoring and the win for Cypress.
The Centurions will host Lawndale on Friday at 7 p.m. at Handel Stadium.