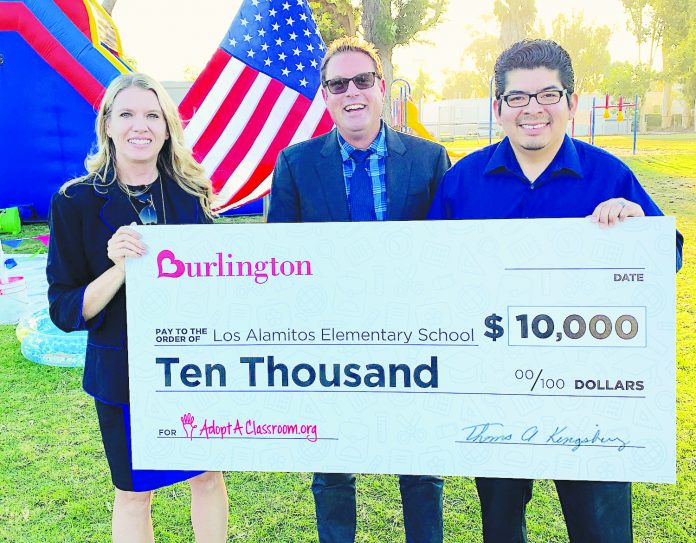 Burlington Stores has donated $10,000 to Los Alamitos Elementary School as a gesture of community support to coincide with the opening of its new store in The Shops at Rossmoor in Seal Beach.
Shelley York, regional vice president for the department store chain, and Roger Cahuantzi, manager of the new store, presented the gift to the school's 33 teachers at a recent assembly.  The donation means that each teacher at the school will receive $300 to spend on materials for the classroom.
Burlington partnered with AdoptAClassroom.org to select a school near their new store that was in need of supplies. Each teacher at Los Alamitos Elementary will have an online account that will allow them to order materials for delivery direct to the school.  Adoptaclassroom.org is a national nonprofit organization dedicated to fund raising for schools. The organization says American teachers spend an average of $740 a year of their own money on classroom supplies.
"At Burlington, we are all about supporting our neighbors and the communities where we live and work," York said. "The donation helps ensure that every child has equal access to the resources and tools to be successful in school."
York and Cahuantzi brought a giant replica check to the assembly and asked all the school's teachers to join them in front of students and parents. When the amount of the check was revealed, the teachers, who were not told of the gift beforehand, whooped and cheered.
"Receiving the hugs and thank-yous from the teachers and seeing how grateful they were for the extra support was a memory that will forever stay with me," York said.
Principal Gary Willems said he and his staff were grateful for the donation.  "Our teachers are always looking for supplies and products that will transform their students' academic and social education. Thanks to Burlington, they will be able to provide their students with an experience they could not have without spending their own money."
Burlington Stores is a division of Burlington Coat Factory Warehouse Corporation with 631 stores in 45 states and Puerto Rico.