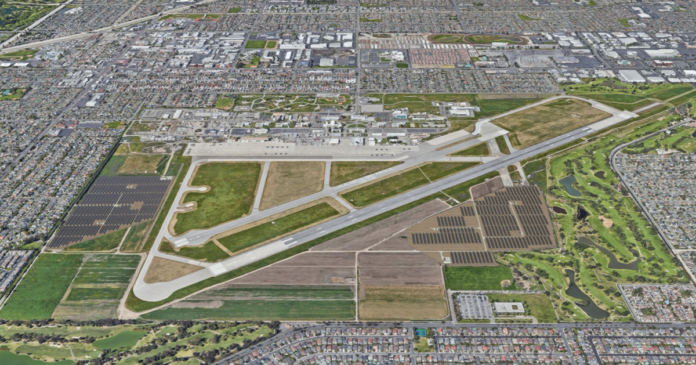 The U.S. Army has chosen the Joint Forces Training Base in Los Alamitos as a location for a 99-acre renewable energy generation facility designed to keep the base operating even in a crisis.
According to a press release, the solar panel installation is expected to improve the base's emergency response system, allowing it to operate normally even if local power grids go down.
The base selection was made by the Army's Energy, Security and Sustainment Strategy command.
A mock up of the project indicates the solar panels would be divided between two open areas on the base, near the golf course that is to the east and along the edge on the Los Alamitos Boulevard side.
The Army says that during any emergency, the solar panels will ensure the base can continue to servedddd Southern California. The centrally located base is home to a wide variety of special aircraft and other equipment used in many types of emergencies.
"We're the only military base in the area that is capable of handling long-term emergency situations," public affairs spokesman Col. Richard Lalor said. From earthquakes to wildfires, and all manner of emergencies inbetween, JFTB is relied on by a plethora of southern California relief agencies, law enforcement and military officials.
If there were a huge earthquake and power outage in California, for example, then the new energy facility would provide the base enough reserve power to fly in rescue teams, supplies or anything else needed to address the situation.
Lalor said JFTB is home to a massive, 8,000-foot runway, which facilitate most any type of relief aircraft. Over the years, Air Force One has even landed at the base
In the event of a major emergency, said Lalor, when the base command has to bring in first responders and facilitate relief supplies, "our runways are big enough to handle any aircraft in the inventory."
The California National Guard just wrapped up its environmental assessment for the project, weighing factors such as traffic, utilities and infrastructure, noise and impacts on the environment. Special attention was given to any glare the solar panels might cause at the airfield or surrounding neighborhoods, officials said.
Its findings have been shared for public comment, and Los Alamitos city officials were also invited to give feedback on the assessment.
According to Ron Noda, Director of Development for Los Alamitos, no comments have been received by the city. The Event News Enterprise did receive a comment that was also copied to the firm that did the Environmental Assessment, but the author refused to go on the record.
Military officials say they do not expect construction of the solar facility to be disruptive to the community, adding that no buildings or structures will be torn down for the solar panels.
Army officials did not disclose the cost of the project. According to the U.S. Army, the 99-acre solar facility is expected to break ground early in 2022.