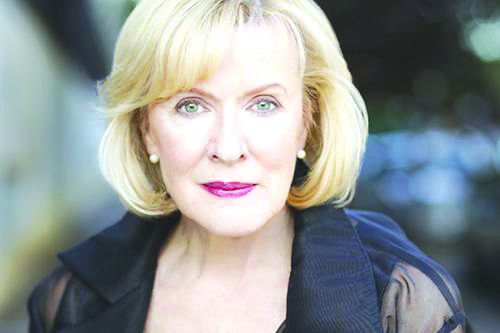 "Once Upon a December" rumors ran amok about a Grand Duchess's survival against all odds. The story of Anastasia persisted for close to a century, giving birth to a 1956 movie, a 1997 Disney animated film and the hot Broadway musical "Anastasia," playing at the Segerstrom Center for the Arts November 5 -17, 2019.  Sadly, DNA testings' of the Romanov's bones have disproved the legend but blending historical fact with romantic fiction does make for a visually stunning musical presentation.
Today's retelling of Anastasia's story is more fantasy than fact but there is a tiny sliver of truth in the storyline. After Anastasia with her entire family was assassinated by the Bolsheviks in 1918, her grandmother, the Dowager Empress Maria Feodorovna, who had fled to Paris, never "Shut the Door" on the possibility of the youngest Grand Duchess' existence. The rumors persisted for decades and numerous Anastasia aspirants claimed to be the unforgotten Royal.
The latest re-incarnation of "Anastasia" is a delightful fairytale with real human emotion. The Disney animation springs to life on stage with a multi-talented cast singing and dancing a few (6) of the film's favorite tunes along with 30 new songs. Carrying the plot forward is Anastasia's Nana, the Dowager Empress played by Joy Franz.
Franz, who has worked with renowned Broadway luminaries from Fosse to Sondheim, brings her vast résumé of experience to her role. Her first New York show was "Sweet Charity "and her illustrious career has included such blockbuster hits as "Pippin" and "Into the Woods," among many. She says "I have been a successful, working actress and yes, I am grateful to have been able to support myself in the world of theater."
Franz hadn't seen the animated "Anastasia" prior to joining the tour. She has, however, done her homework on the Romanov's history. She says "I did see the original film and of course, I was aware of the Romanov's. They ruled as Russian Tsars for over 300 years. I did study the real life Dowager and it was helpful that the cast was given research material to read."
She continues "Playwright Terrence McNally was inspired by the Romanov story and the Disney animation, writing a marvelous show filled with impressive projections, glorious staging, dazzling dancing, brilliant ballet, con men and comedy."
When descripting the musical, Franz first comment was "It's a magnificent score with the lyrics of Lynn Ahrens combined with the music of Stephen Flaherty, well it's just brilliant. Add in the visuals created through projections, music, dancing and humor and you have a near perfect musical."
"Anastasia" has a little of something for everyone. If humor is your thing then the comedy team of Countess Lily (Tary Kelly) and con man Viad (Edward Staudenmayer) provide plenty of laughs. It is, however, according to Franz "a very inspirational show. Its message is to never give up on your dreams as you work towards their fulfillment. 'Anastasia' is about love, hope, family and discovering yourself. It's not just a princess show for little girls, it's a wonderful story for boys, too and adults, grandparents, people of all ages because of the encouraging message."
The musical is Anastasia's story but it pivots around Franz's character, the Dowager Empress, who never gives up on finding her granddaughter. She offers a reward for evidence of Anastasia's existence and never let's go of hope that she's alive. This is what sets off the plot that takes audiences on a journey from aristocracy-free Russia to Roaring Twenties Paris. (An interesting historical side note is that while the reward is essential to the plot, in real time a monetary reward was never offered and although numerous wanna-be Anastasia's came forward, the Dowager Empress never acknowledged them).
Franz as the Dowager has been described as both regal and intimidating. Critics have also said of her that she brings real emotion to her role with a beguiling genuineness that touches the heart, especially in the scenes where she is Nana to the young Anastasia.
The opening scenes with Nana and child are heartwarmingly lovely. It is, however, the recollection scene, in the second act, where the Dowager Empress accepts that Anya really is Anastasia, that Franz says contains "the most poignant and important line in the show." In this scene Anya/Anastasia says "Do you remember the last time you saw me?" and I, as Nana, reply "I didn't know it was the last time. We never do, we never know which good-by is the last." Franz adds "that is the most important line because we can all resonant with it. We just don't know what may happen and so we should embrace those moments we have with family and friends."
"Anastasia is a delightful spectacle of a show that takes audiences on a virtual reality train ride through the snowy Russian landscape to the cherry blossom lined avenues of Paris, backlit by the Eiffel Tower. Aaron Rhyne's artistic projections are the star of the show as they seamlessly shift mood and locale as the story unfolds. Topping the sensational staging is superb lightning, magnificent costumes, and dynamic dancing ranging from a spirited Charleston to a mini 'Swan Lake.'
All of the above are key ingredients in making "Anastasia" a 'must see' musical at the Segerstrom Center. Franz agrees, but what she likes best about "Anastasia" is that it makes people happy. She says "They cheer, even scream, they make us feel like rock stars. It just goes the full circle; drama, comedy, music, and romance. It makes audiences stop and reflect on the things of value – home, love and family."
"From the Last Dance of the Romanov's" to final curtain call "Anastasia" will warm the hearts of folks big and small. There's "Everything to Win" at the Segerstrom Center for the Arts with the musical "Anastasia" playing November 5 – 17, 2019. Or tickets and information Online, SCFTA.org; in person: The Box Office, 600 Town Center Drive, Costa Mesa; Phone, 714-556-2787. Hours are 10 a.m. to 6 p.m. daily.
Courtesy photo