Although Joshua Kreitzer leads one of the region's fastest growing companies, his own rough and rocky road to the summit of success has left him determined to instill values of leadership among his rapidly expanding workforce.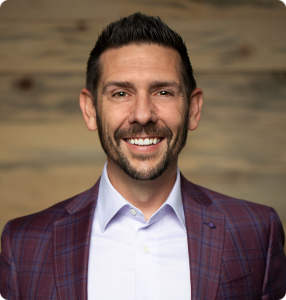 "Our brand is about focusing on new ways to help people," said Kreitzer, as he hints at what really drives him as a leader.
Kreitzer is the founder and CEO of Channel Bakers, a global ecommerce agency based in Anaheim. During the pandemic, the company grew its worldwide workforce over 50% in 2020, bringing 61 new employees onboard.
Despite worldwide economic impacts from the pandemic, the agency achieved year-over-year growth in each of its key markets and accomplished regional expansion goals, said Kreitzer.
Kreitzer uses strength forged by his own life experience to inform a unique brand of leadership that has led to stratospheric growth.
Although he sits atop a skyrocketing business, Kreitzer's vision of success seems centered now around attracting the brightest young talent and giving them whatever they need to grow the company, and themselves, to a better future.
"At Channel Bakers, we grow the dough," he jokes, but deeper, Kreitzer grows the self-esteem of his employees and it seems to be working spectacularly well.
Kreitzer's digital metamorphosis began way back at the birth of the internet, with Ingram Micro. As a sales manager, he worked with big accounts like Apple, and he was compelled to keep pace with their technologies, if for no other reason than to sell them products as the internet grew.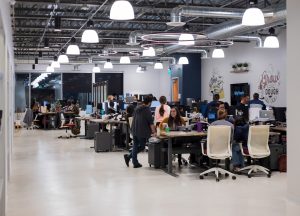 His stop-and-go digital career has rocked back and forth as companies imploded, so he moved around. Another key step was when Kreitzer landed a job at Buy.com, where he focused on helping brands leverage their digital platforms to build retail channels.
He could not have known it then, but his day-to-day encounters were providing him with enormously valuable knowledge precisely at the dawn of the internet age.
He took notice when Apple, then just an upstart, published 10 posters entitled "think different." Kreitzer collected nine of the 10 originals, which hang in his home today, but more importantly, these posters apparently made him begin to think differently as well.
During his days at Buy.com, Amazon, too, was merely an upstart. If fact, "Amazon was the enemy," he said, yet keeping up with their progress was part of his job.
Eventually, Kreitzer moved to GoPro, where he focused on building retail channels for brands using data and large media ecosystems.
When he lost his job at GoPro, the bottom fell out, literally, for Kreitzer, and his family. His wife, Katie, a mortgage industry executive, was also affected and the young couple lost their home after the financial crisis of 2008.
"Things got pretty rough," he said.
By then, however, Amazon had begun their ascent to the top of the ecommerce world and was building an incredible digital platform that few noticed.
Kreitzer's internal guidance system, however, was already locked on as he studied their every move.
Apparently, the inner strength and knowledge that resulted from his family's crisis and his deep knowledge of the internet, slowly began to power Kreitzer's stunning comeback.
By 2013, Amazon was not only a behemoth retailer but had also built a staggering digital platform that few understood. Kreitzer, meanwhile, had been ever-present and believed he had decoded Amazon's data platform.
Kreitzer began to speak to brands about utilizing what he saw as an untapped resource as his ideas began to stir.
Falling back on his friends, many of whom managed big brand digital advertising, Kreitzer said he approached them at the 2015 Consumer Electronics show in Vegas.
"Don't look at Amazon just as a retailer," Kreitzer advised them. Instead, Kreitzer felt like the big brands should look at Amazon's platform as a credible alternative to rivals Google and Facebook.
"I can utilize Amazon's own data to grow your brand," Kreitzer said he told them, promising to target Amazon shoppers and send them directly to big brand websites.
As they began to buy into the idea, Kreitzer said they began to ask whether or not he had a company.
"I said no," said Kreitzer. "Well you need to start one," Kreitzer said they told him.
So, he did, forming Channel Bakers in 2015. This time, there would be no looking back for Kreitzer.
Not only was he properly positioned for growth, but his particular brand of retail channel management quickly captured the attention of his big brand friends.
His tiny upstart in Anaheim began to grow as big brands grew along with him.
Kreitzer's was the first agency purely focused on Amazon Advertising, but Channel Bakers today has evolved into a full-service, global agency founded upon a core tenet to help innovative brands find the right audience at the right time.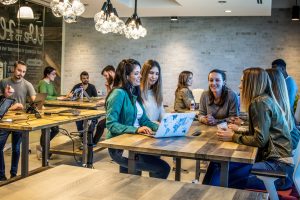 He attracted young, creative talent to tell the big brands' story and eventually, their specialty work drove their sales through the roof.
Hitching his company's fortunes onto Jeff Bezos' Amazon platform, for sure, was a stroke of genius that has since put his own company on a stratospheric trajectory. Channel Bakers is now fully accredited and certified by Amazon as an advertising partner, says Kreitzer.
"Last year we saw more than 145 million consumers shopping online for the first time ever in response to social distancing measures. The shift to shopping online has accelerated the need for brands to transform their go-to-market strategy and overall brand experience into measurable digital platforms,"he said.
According to Kreitzer, the agency saw a return of more than $700 million in ad-attributed client sales performance from more than $100 million in Amazon ad spend last year. Just on the Amazon platform alone, Channel Bakers built and managed more than 84,500 advertising campaigns across their 220 clients around the globe in 2020.
Channel Bakers also celebrated the launch and accelerated scaling of its first UK office, joining its existing U.S. and Asia office locations. The agency now has full-service representation on three continents, which it credits to enhancing overall speed-to-execution of its client campaigns.
Kreitzer's Anaheim office suite now reflects many of his own lessons on life. He inspires his employees, mostly young, tech-savvy creatives, to write "notes of gratitude to each other."
He inspired them to paint creative slogans on the wall of their massive suite. Located in Anaheim Hills, Kreitzer has also carved out inspirational rooms where employees can retreat to create.
One has a Disney theme (Kreitzer is a big fan of Disney's 'happiness for all' philosophy), another has Einstein's face and words. Then, there is the George Lucas Star Wars suite, etc. "Every one of them were people of value as much as success," he notes.
"We genuinely respect the people we work for, not just their brands," said Kreitzer, "and we use these rooms to brainstorm. My goal is to make the entire office conducive to creation," he said. Sort of like an ideation incubator of value creation.
"Teamwork makes the dream work," he says.
Not only does Kreitzer urge collaboration among his team, he also promotes being out of the office and "in the community." "There's more to life than work," he claims, and Channel Bakers employees often collaborate on charitable and community projects outside the office.
So far, this philosophy seems to be working for Kreitzer.
The Channel Bakers creative team doubled creative department revenue in 2020. The team also accomplished major business objectives, including development of a full-service, in-house video production department capable of producing video to scale with an emphasis on Amazon OTT (over-the-top), Sponsored Brands Video, and DSP online video ads.
eMarketer recently reported that digital marketing spend in 2020 grew by $3.59 billion to reach online consumers, who spent more than ever streaming programming by Amazon, Disney, Hulu and other content providers.
Digital video streaming platforms such as TikTok and Twitch have drawn a fast-growing audience, which resulted in brands shifting dollars away from traditional television advertising and into products such as Amazon's OTT advertising.
Kreitzer said Channel Bakers' clients are seeing increased performance at multiple stages of the sales funnel by employing campaign strategies involving OTT as well as introducing high-quality video into Amazon's Search platform. The agency has differentiated itself by combining traditional storytelling with technological innovation.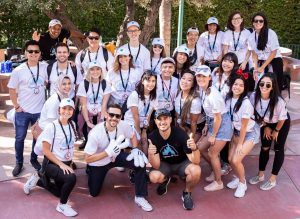 "Channel Bakers has continued to grow because we are data-driven and maintain a level of creative execution meeting the expectations of the world's largest brands," Kreitzer added.
In October of 2020, Kreitzer was awarded "Internet Marketer of the Year" by the Internet Marketing Association at its annual IMPACT 20, which set a Guinness World Records achievement for largest attendance for a virtual marketing conference in one week.
Channel Bakers offers turnkey ecommerce solutions and advertising strategies fueled by analytics. Its campaigns help elevate brands such as Samsung and Honeywell, and range from apparel, consumer packaged goods, over-the-counter drugs, automotive, and electronics to financial, insurance, education and more.
Amazon, the eCommerce, cloud computing, digital streaming, and artificial intelligence giant with a market capitalization of more than $1 trillion, not only lists Channel Bakers in their Partner Directory of Amazon advertisers but has also posted their own case studies featuring Channel Bakers' creative and advertising work with Samsung.
Like other tech CEO's, Kreitzer knows the real value lies within the hearts of his employees, not simply the work they create every day. "They must care more about the end result than themselves," he insists.
"I wake up in the morning to create tomorrow's leadership," says Kreitzer, acknowledging what compels him forward every day. "My job is creating new leaders," said Kreitzer. "Amazon is just a platform to get us there."