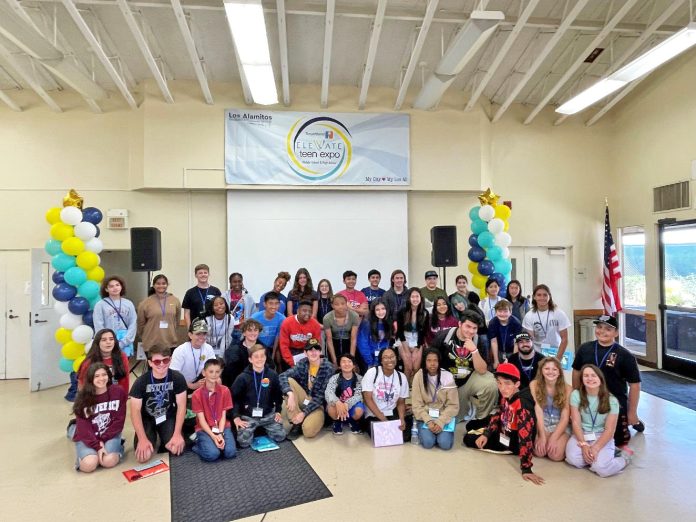 The City of Los Alamitos Recreation & Community Services Department held its 2nd annual Southland Credit Union ELEVATE Teen Expo event on Saturday, April 22, 2023. Local middle and high school age students were invited to the Los Alamitos Community Center from 8:00 a.m. to 3:30 p.m. to participate in this personal development conference.
Elevate Teen Expo was created with the objective to provide local teens with vital knowledge, resources, and experience that will help them elevate their life on a personal and professional level. Organized by the Department's Recreation Coordinator, Samantha Kenny, the event tackled special interest topics including, but not limited to:
• Life Skills
• Self-Confidence
• Self-Care
• Safety and Real-Life Adulting
Educational resources were provided on behalf of the following organizations:
• Casa Youth Shelter
• Orange County Fire Authority
• Orange County Health Department
• Southland Credit Union
• The Youth Center
• Tilly's Life Center
• City of Los Alamitos Recreation & Community Services Department
The Expo was a great success thanks to the title sponsor Southland Credit Union. Their contributions helped make this impactful event possible along with the Board of State and Community Corrections (BSCC) grant. The conference received a total of 44 registrations, which represented an increase of 35% from last year.
The event kicked off with a breakfast followed by the first set of keynote speakers, Chris French and Viviana Mejia, who spoke on behalf of Tilly's Life Center. Chris and Viviana provided an insightful presentation on self-love, self-confidence, motivation, ambition, and celebrating individuality. This was followed by back-to-back breakout sessions focused on the topic of Personal Discovery, Self-Confidence, and Safety. Each session was made up of 3 potential subtopics and participants were allowed to pick and choose the areas that best catered to their interests. Lunch was supplied for all participants, which provided a mental break as well as an opportunity for teens to interact freely. Following lunch, the expo concluded with Special Interests topics, Adulting 101, and a final keynote presentation. Southland Credit Union showcased their "Bite of Reality" mobile application that provides teens with a fun, safe, and interactive opportunity to handle real world financial realities. Subtopics offered can be found on the event program.