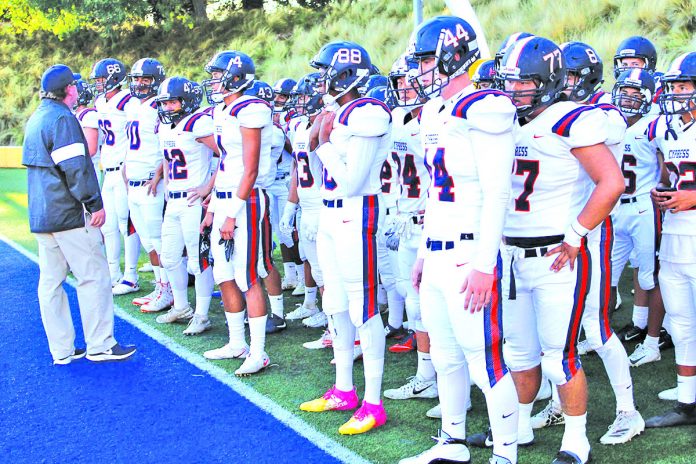 Cypress High pulled out a 29-27 win over San Juan Hills in overtime, when the Centurions forced a missed two-point conversion. Quarterback Dylan Eldredge had touchdown passes to Devin Cobb and Matthew Morrell as the game went into halftime tied at 14-14.
Prior to the touchdown to Morrell, Eldredge had moved the ball into the red zone with a 40-yard pass to Morrell. Trailing 21-14 in the third, Eldredge used a big pass play to Neil Jensen down the middle that helped set up another touchdown pass to Morrell that tied the game at 21-21.
Eldredge finished the night with 242 passing yards and four touchdowns, with Morrell catching 11 passes for 119 yards and two touchdowns.
While the Centurions were able to rack up 359 total yards off offense, San Juan Hills countered with 421 total yards of their own.
Cypress will take on former league foe, Western High at 7 p.m. on Friday Handel Stadium at Western High School. Both teams are 1-1. Western opened the season with a 26-20 win over Chino, but are trying to rebound from a 41-0 loss to Huntington Beach High on Friday.
Sophomore Anthony Luna leads the Western offense and threw for 369 yards and four touchdowns in the win over Chino.
After a big season-opening win, the Los Alamitos High football team won a tight one, holding off Lincoln High of San Diego, 22-17 on Friday at Westminster High.
The Griffins scored 21 points in the first half to take a 21-0 lead into the locker room. Lincoln held the Griffins scoreless in the second half, but the Los Al defense was able to make the score stand up.
The Griffins will travel to Paramount High, where they will take on a Pirates team that is 0-2 on the season so far.
Kennedy improved to 1-1 with a 44-36 win over LaSalle on Friday at Handel Stadium.
Alex Herrera threw for 242 yards and five touchdowns, as the Fighting Irish controlled the game through three quarters. Kennedy held LaSalle scoreless in the first half, but the Lancers rallied in the second half, scoring 29 points in the fourth quarter to make the score close.
Hunter Benton caught 10 passes for 180 yards and all five touchdowns through the air. Cody Masumiya had 111 rushing yards and added two touchdowns on the ground. Kennedy travels to Sonora High on Thursday for a 7 p.m. game.