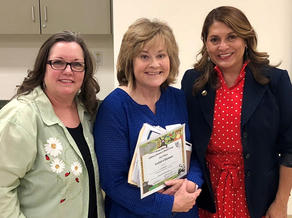 Assemblywoman Sharon Quirk-Silva was the guest speaker at the monthly Legislation and Public Policy Committee of the Woman's Club of Cypress. Quirk-Silva gave an overview of legislation and state-wide issues. Of particular interest to the group was the County's plans to work with homeless residents and how state money designated for homeless assistance will be utilized to provide needed services.
Other topics included education, the cemetery to be located in Irvine, coyotes in neighborhoods and a host of other issues. A question was posed about the club's support of current legislation that will require middle and high schools to educate students on the dangers of social media and its implications for recruitment into human trafficking.
"Our Legislative and Public Policy Committee seeks to educate our members about local, state and national issues of interest to women. This education can only make us better citizens and more active community members," said Committee Chairwoman Lisa Brandon.
Those in attendance appreciated the Assemblywoman's candor and clarity while explaining important issues. The meeting was attended by members of the Woman's Club of Cypress, Rossmoor Woman's Club and Yorba Linda Woman's Club.
Woman's Club of Cypress member Muff Elstran commented, "We are most appreciative that Sharon Quirk-Silva took the time to update us on current ballot initiatives. Her familiarity with many of our members and knowledge about a number of our ongoing projects indicates a gratifying familiarity with local issues."
The Woman's Club of Cypress is a local nonprofit service organization of women actively involved in various volunteer and charitable works in the community. For more information about the Woman's Club of Cypress, please visit www.wccypress.org.