Even for a former Cypress high school football standout, Miles Mendez knew this was a challenge bigger than football. His number had just been called in the game of life.
Mendez, now a freshman at Pace University in New York, was sent to be "safer at home" in Cypress for the pandemic. Shortly after settling in, he got an unexpected phone call.
"They told me I could possibly save the life of a 57-year-old leukemia patient," said Mendez. To do so, however, he would have to travel to San Bernardino during the worst of the pandemic to donate bone marrow.
A woman representing the "Be the Match" donor program had informed Mendez that his HLA (human leukocyte antigen, was an exact match for a woman suffering from leukemia.
At first, "I was a bit hesitant, really," said Mendez, "I wanted to know how it would affect me."
"Considering the times we're in now," he said, "I needed a day to think about it."
Now a freshman at Pace University in New York, Mendez is a "long-snapper" for the football team.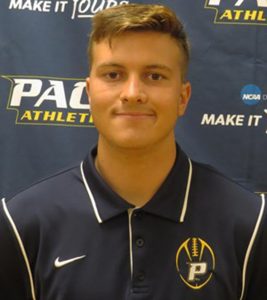 "Miles is a really humble, hard-working guy," says Pace University head football coach Andy Rondeau. Mendez is a starter on the Setter football team, said Rondeau, and the head coach says he often works with Mendez at practice. The Setters went 6-4 during Mendez' first season. The coach was excited to learn of Mendez' match.
"This is awesome," said Rondeau, "what a life experience for a team." He said HLA matches are rare.
Rondeau says it is a tradition for some collegiate players to sign up for the "Be the Match" donor program, at least with the teams he has coached.
Participating in the donor program, he said, teaches the team they can be something bigger than themselves. "It lets them know they can really make a difference."
Dr. Ron Jacob, a manager with Be the Match program, said the specialty donor program connects 22 million bone marrow donors with potential patients.
Jacob said he spoke to Mendez and his teammates before they were tested but he does not individually track the many athletes who participate in the program.
Although there is a huge misconception that stem cells come from spinal fluid, Jacob said they are extracted only in two ways, either from the hip or separated by specialty
machines.
In fighting cancer and leukemia, said Jacob, doctors literally "destroy the patient's flawed immune system." The highly compatible stem cells can then be injected to allow the patient's blood a fresh restart its immune system, hopefully able to fend off any new cancer cells, he said.
Jacob said stem cells are cells in our body that have not yet decided to be red or white. Stem cells are malleable, he said.
Mendez was informed that the nearest medical equipment capable of aphaeresis, or the removal of plasma, is located in San Bernardino. If he decided to donate, Mendez knew he would have to go there amid the crisis.
"Regarding the victim, they didn't give me too much information," he said. "I just knew she had leukemia."
If Mendez chose to participate, he would first have to give another sample of blood, allow it to be tested, then be injected for several days with a drug called Filgrastim. Afterwards, he would then travel to San Bernardino to sit for five to six hours attached to a machine.
Dr. Jacob said the machine takes blood from donors, spins it sufficiently to separate the plasma, captures the stem cells, then recirculates the donor's blood back into the body with no noticeable effect.
"I was humbled given this opportunity," said Mendez, yet was concerned because of the pandemic. He spoke to his parents, Richard and Lisa, then spoke to his coach. After learning that his mom had once tried to help someone in this way but could not because of other factors, Mendez said he would make the donation.
He underwent the blood tests, then Mendez scheduled the four consistent days to be injected with the drug filgrastim. His mom had agreed to drive him to San Bernardino for the procedure.
In April, his mom drove him from Cypress to the medical facility in San Bernardino.
"I was kind of nervous about it," said Mendez, but also thought about the unknown woman who had much less of a chance to live if he chose not to donate.
Jacob said in all cases like this, there is a courier standing by to whisk away the lifesaving stem cells as soon as the procedure is finished. The stem cells are flown or driven to the recipient and immediately injected into the stricken patient.
"I had one needle in my left arm all day," said Mendez, as he watched the blood flow from his arm into a machine. "The nurses were really great," he said, "they kept me entertained."
The nurses stayed with him and his mom in a small room. Meanwhile, a large machine swirled his blood at speeds sufficient to separate the stem cells before gently putting the blood back into his body.
For more than five hours, Miles sat as the machine grabbed enough of his cells to restart the immune system of a woman he does not know and will likely never meet. His parents are proud.
"I guess I am writing this more about my son," said his dad Richard, who notified the Event News. "All of his life he has been the humblest kid I know," according to his dad.
"His coaches and teachers would tell you the same if you asked," said the elder Mendez. His dad also noted his son had been a three-year Centurion starter in high school; defensive player of the year his junior year, and made captain in his senior year while earning an academic scholarship to attend Pace University.
"He would never tell you this or boast of his accomplishments on social media," his dad said.
In fact, during the interview, Mike Mendez would only say "I felt great," about making the donation. Mendez said the procedure left him with no physical side affects and emotionally, it was overall an uplifting experience.
"The biggest takeaway for me," said Mendez, is that "I focus on life a lot more now. "I smile more."
He encourages others to sign up for programs that make a difference.
"If you have a chance to save a life," said Mendez, "just do it. It's worth it."
Although he had been active in the community and had once worked with the Red Cross, the younger Mendez said the experience left him with a broader outlook on life.
As far as mom, well, he says, "I made her proud."
Looking back, Miles is extremely happy he answered the call. For Miles, he will always remember the pandemic as an opportunity for his first big score in the game of life.