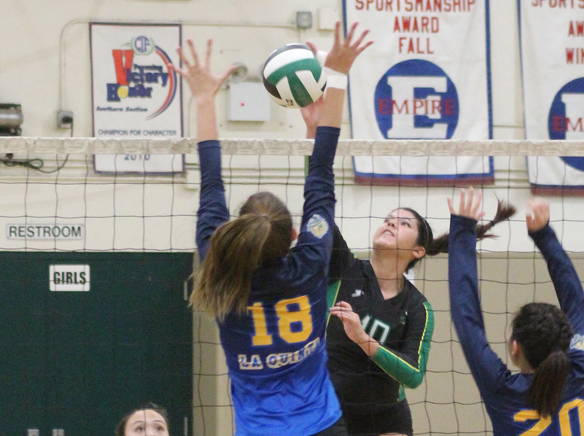 Kennedy High girls volleyball ended their preseason with a three-set win over La Quinta on Wednesday at Kennedy High.
The Fighting Irish took the first two games handily, each time jumping out to 10-point leads. In the third set, the fighting Irish again looked like they might run away with the set. Leading 4-3, the Fighting Irish went on a 4-0 run to take an 8-3 lead.
Kennedy took a 10-4 lead on a cross-court tap for a point by Perla Rodriguez.
After a tap shot for a point by La Quinta's Kelly Le, the Irish added two more points, to push their lead to 12-5. But La Quinta pushed back with a 4-1 run. The run included an ace serve off the back row by Amaya Primiani.
But the Irish responded with a 4-0 run, highlighted by two ace serves from Brooke Sasaki, which game Kennedy a 17-9 lead. Kennedy would extend its lead to 19-10, but the Aztecs would push back one more time.
Katelyn Nguyen hit a tapper off a back row defender to start a 4-0 run. Jeanine Nguyen had a well place bump shot from the back line that found open space and fell in for a point. She also capped the run with a hit off a back row defender to cut the lead to 19-15.
But that would be as close as the Aztecs would get. Kennedy started a 4-0 run with a hit down the middle by Sarah Ito, followed by a block for a point by Rodriguez. After Rodriguez tapped an overpass down for another point, Dejenea Blair had a hit off a back row defender to push the lead to 23-15 as the Irish eventually closed out the match, 25-16.
Kennedy is looking to improve upon a third place finish in the Empire League from last year. Cypress won the league with a 10-0 record, while Kennedy was third at 6-4, one game behind Tustin.
Head Coach Billie Bixby said the team is young, but has been playing with a lot of energy. She also said, despite their youth, they have been able to shake off mistakes quickly and keep focused on the game. She also likes the way the team has supported each other.
"They work hard to get better, they help each other get better," Bixby said.
Kennedy hosted La Mirada Thursday in their final pre-season match. They will play at Tustin on Tuesday and will host rival Cypress on Thursday at 4:30 p.m.