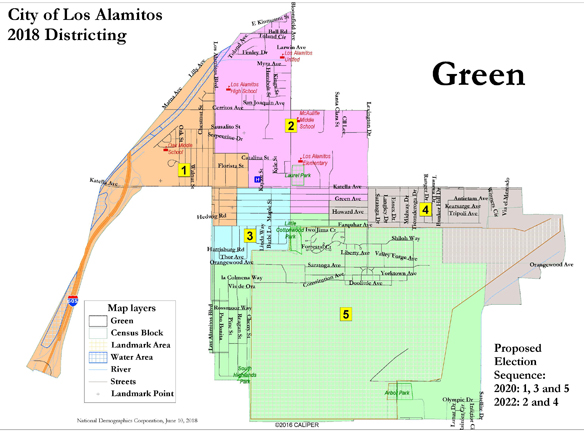 There are certainly more than a few challenges when it comes to dividing up Los Alamitos into voting districts. The city of Los Alamitos has sought input from citizens in solving the dilemma, though it seems like a final solution will not be easy.
The city council held a special meeting on June 18, to get an update on how the process is going so far. Several proposed district maps are under consideration, but there are a lot of factors influencing the final decision.
Essentially, population becomes the primary factor, as each district must have as close to equal population as possible. But with 45 percent of the city's population residing in apartment row, how does that area get divided. Racial Gerrymandering had to be taken into account and the concerns of areas can differ based on location alone. Voter turnout, though not a primary factor, was also taken into consideration, according to Justin Levitt, a demographer with National Demographic Consultants (NDC), a firm the city contracted to oversee the districting process.
"We're hoping to get some direction on where we need to go from here," Levitt told the council during his presentation.
The city began this process after being informed by lawyer Kevin Shenkman, that the city's at-large election system violated the "California Voting Rights Act by diluting the ability of Latinos to elect candidates of their choice or otherwise influence the outcome of Los Alamitos' City Council elections," the city staff reports states.
The city has now looked at several variations of districts maps, each of which intends to keep geographic areas together. Problems arise when you take into account other aspects. For example, the argument can be made that those who live in apartment row are often of a more ethnically diverse population, as so many families are centralized in a small area. It is an area some residents aregued is underrepresented.
"We still don't have representation in apartment row," resident Barbara Farrell said.
But due to its population size, there seems to be little alternative to splitting the area up into at least two districts, an idea opposed by some. A group of residents proposed dividing apartment row in half, with the east end joined with the Old Town Area, while the west side would be joined with the Dutch Haven neighborhood.
Rossmoor resident Larry Strawther has strong ties to Los Alamitos and submitted an idea that also allows for the splitting of Apartment Row. The east end would join Carrier Row and New Dutch Haven neighborhoods, while the west end would also join Dutch Haven and Suburbia areas.
Strawther spoke at the meeting and noted that the challenge is that districts have to be done along census data reports, but different areas have varied concern. Traffic issues along Farquhar and Katella are of more concern along Apartment Carrier Rows, while the north end, is more concerned about traffic issues along Los Alamitos Boulevard and Cerritos Avenue. Strawther, also a local historian and author, noted that he tried to keep neighborhood identities in mind as well.
"I tried to make a map which addressed all natural and historical issues, kept an approx. district population of around 2200-2300 residents and still kept the traditional neighborhood identity (as much as possible)," Strawther stated in his submitted model.
Mayor Pro Tem said that at first glance, he liked the map that Strawther had laid out. Edgar showed an initial preference to what was called the Green Map, which had similarities to Strawther's. However, the council also expressed concerns that there would be new problems down the road. For example, in recent years, there has been elections that had barely enough candidates to require an election. Four year's ago there were only enough candidates to fill the seats up for re-election and the candidates were simply sworn in.
"I foresee a situation, where we don't have anyone to run for city council," Councilman Mark Chirco said.
Councilman Richard Murphy expressed a similar concern and asked the demographer what would happen if nobody from a district field to run. The answer was that the city would have to essentially recruit people to run.
"If nobody tries to run, what makes you think someone will want to apply?" Murphy asked.
Mayor Troy Edgar noted that not everyone is eager to spend money to run for a job that does not pay, and requires at least 20 hours of work per week. Councilwoman Shelley Hasselbrink later added it takes closer to 30-40 hours per week, "if you're doing it right," Hasselbrink said.
The letter from Shenkman outlined a history of polarized voting in Los Alamitos, including citing the March 19 passage of the ordinance opting out of the California Values Act, as justification for moving to have Los Alamitos adopt a district voting system. But if it will work in a city as small as Los Alamitos, is still up for debate.
"In the end I don't think this provides better governance," Edgar said.
The next public input meeting is scheduled for 6 p.m. on July 9. There will be another meeting on July 19, also at 6 p.m. Both meetings will be held in the Council Chambers. For more information or to view the complete report, visit cityoflosalamitos.org. Or contact the city clerk at 562-431-3538, ext. 220 or wquintanar@cityoflosalamitos.org.