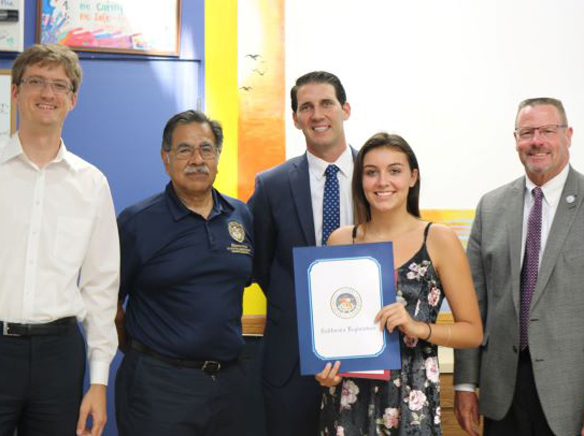 Young adults learned how to handle real-world challenges for life beyond high school at this year's Leadership Academy recently held at the Youth Center in Los Alamitos.
Exclusive workshops refined each year include the hottest topics recommended by teens embarking on greater adult independence that they will encounter beyond high school.
"We want to keep things fresh and relevant for the participants to ensure that in the short time they're with us, they learn the basics about of living responsibly on their own," said Youth Center Office Manager Julie Rubin.
The curriculum included workshops on basic financial skills, living successfully on your own, auto maintenance and insurance, goal setting and leadership skills, cooking and home skills, business basics, creating a resume and interview skills and more. The Youth Employment Services (Y.E.S.) of Orange County presented employability information to the graduates, and they were able to sign up for their services. The Better Lives Foundation sponsored the Leadership Academy.
"This year, we had an amazing group of youth who were hungry to learn everything about life," Youth Center Executive Director Lina Lumme said. "I want to thank our speakers for sharing their wisdom with our students and helping them with all the tools they need to be successful adults. From budgeting to setting your goals, cooking and interview skills, students had an opportunity to learn important things about living successfully on your own."
Each graduate took away a certificate of completion, written goals, a letter of recommendation, resume, bank account (upon parental approval), a professional photo, a mentor and peer-to-peer friendships. Each workshop was taught by highly-qualified members from the Orange County community.
"We're teaching kids how to be successful in life," continued Lumme. "We're teaching them how to fish so they'll eat for a lifetime by giving them the skills they'll need to succeed in their young adult lives." Lumme especially wanted to express her gratitude to all the politicians and representatives that were in attendance and/or forwarded certificates or letters to the graduates.
Graduates of the 2018 Youth Center Leadership Academy include:
Jordan Barnes of Seal Beach
Morgan Barnes of Seal Beach
Raphael Bitton of Long Beach
Andrew Creighton of Rossmoor
Luke Ewell of Cypress
Jasmine Fendi of Cerritos
Joshua Fendi of Cerritos
Ethan Groves of Lakewood
Joshua Havstad of Los Alamitos
Jason Hearn of Los Alamitos
Karina Hernandez of Los Alamitos
Kyle Hernandez of Los Alamitos
Justin Huckins of Los Alamitos
Benjamin Kessler of Seal Beach
Erin Kilpatrick of Los Alamitos
Naomi Laurain of Los Alamitos
Kaylie Matthews of Los Alamitos
Elsa McFadden of Rossmoor
Vincent Ngo of Westminster
Daniel Park of Los Alamitos
Andrew Quan of Los Alamitos
Domineque Radcliff of Buena Park
Jakob Rippe of Los Alamitos
Bethany Tom of Long Beach
Hayden Vega of Los Alamitos
Ubika Reddy Venna of Cypress
Nyssa Yota of Los Alamitos